Anishah Aujayeb
Anishah came from Mauritius to study here, and has returned to Mauritius to pursue her career.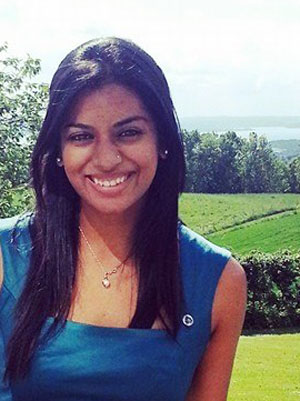 LLB (Hons) Law
What brought you to study at Teesside University?
Law has always appealed to me, and I thought that a law degree would help me achieve my ultimate goals. I came here from Mauritius. My elder sister, Ashitah Aujayeb, was already a student here so the choice of university was a no-brainer.
What was the course like?
The course was excellent, and I enjoyed the social life as a member of Interlink, the society for international students.
What did you do next?
I completed a Postgraduate Certificate in Criminal Law and Procedure at another university, then I took a break from law and worked as the Assistant Manager of a language school in Hastings. After two years of gaining experience in HR and management, I moved back home to Mauritius where I gained extensive insight into the corporate and financial services sector by working in one of the first corporate law firms in Mauritius, Juristconsult Chambers.
What are you doing now?
Since January 2015 I have been working for the government of Mauritius. I am an Adviser to the Deputy Prime Minister of Mauritius and Ministry of Tourism and External Communications, on various matters including the policies and strategies for the development of the tourism industry in Mauritius.

I am also part of the Global Shapers Port Louis Hub of the Global Shapers Community. The Global Shapers Community, which is an initiative of the World Economic Forum, is a network of young leaders committed to improving the societies they live in. I have also been recently nominated to be part of Global Shapers Community Advisory Council on Hub Development.

I am also the Country Chair for Global Dignity Mauritius. Global Dignity is an international organisation, co-founded by HRH Crown Prince Haakon of Norway, whose aim is to help young adults become their best self and help others achieve the same by empowering them with dignity.

Through the Global Shapers and Global Dignity, I also run anti-bullying campaigns throughout the islands in an attempt to create better awareness of the various forms of bullying, at school or in the professional sphere. Due to my own personal experience of being bullied, I strongly believe that bullying issues should not be ignored. I am also very keen to promote dignity-based leadership to a wide range of young professionals and students. I have recently completed an MSC in Criminal Justice Studies with the University of Mauritius.

My ambition is to have a political career and bring positive changes to Mauritius. I also want to build further awareness that women can have successful careers within male dominated spheres.