School of Social Sciences & Law news
Port security staff celebrate academic achievement
Security staff at PD Ports celebrated completion of a unique course at Teesside University.
More information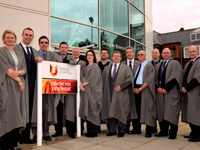 Security officers who completed the University Certificate in Professional Development (UCPD) Ports Facility Security
---
A special ceremony was held at Teesside University, attended by 13 of the 21 security officers who completed the University Certificate in Professional Development (UCPD) Ports Facility Security.

The course, accredited by Teesside University and developed in conjunction with PD Ports, specifically addresses the learning needs of employees who operate within the ports environment as port facility security officers.

Among the port facility security officers graduating at the ceremony was Mark Savage, 42, who used to work in the RAF.

He said: 'The skills I obtained during the course have gone hand in hand with my day-to-day practice at the port and I have learned a lot about border security processes and regulations and working alongside other authorities such as Cleveland Police and the UK Border Agency.

'The job is fascinating as I deal with all incoming and outgoing ships and speak to people from all over the world. I've been here for two years now and I'm hoping to explore any anti-terrorism job opportunities in the future.'

PD Ports chief executive David Robinson congratulated the ports facility security officers, saying they play a fundamental role in the security of the port. He added: 'It's a fantastic joint effort and the course remains the only port facility security officer course with an internationally recognised qualification.'

The main aim of the UCPD Ports Facility Security is to ensure the knowledge, understanding and application of the International Ship and Port Facility Security code and ISPS. The ISPS code was developed and introduced in the wake of the 9/11 attacks in the United States. It is a set of special measures that were introduced to enhance maritime security in the international convention for the Safety of Life at Sea (SOLAS).

Fundamental to the role of a port facility security officer is the ability to identify threats and vulnerabilities within their particular port facility area specifically related to their operation.

The Teesside University accredited programme links theory to practice. Students undertake assessment tasks to test their knowledge and understanding of ISPS and then apply this knowledge to a table top exercise that demonstrates how they would manage a particular security incident.

Professor Eileen Martin, Deputy Vice-Chancellor for Learning & Student Experience, said: 'We are one of the country's leading universities for employer engagement and as such we are delighted to work with a company that is widely recognised as providing one of the main gateways to and from the UK's economy to extend higher level skills in the workplace.'

Teesside University works in partnership with PD Ports and launched a unique foundation degree in Leadership and Management (Ports) in 2009, offered part-time over two years.


14 June 2012
In the News
Changing places changing faces
Hartlepool Mail, 23/10/2012, p.26
Two workers with the owners of Hartlepool's dockland are celebrating after completing first class engineering degrees. PD Ports' employees, Anthony Paxton and Darren Coleman have achieved first class honours at Teesside University. Both have been working for four years on a part-time basis to gain this qualification.