School of Social Sciences & Law news
Teesside University welcomes one of the country's youngest professors
One of the UK's youngest professors in the field of psychology and criminology has joined Teesside University's Social Futures Research Institute.
More information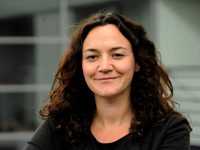 Professor Rosie Meek.
---
Professor Rosie Meek, 34, has joined Teesside from the University of Southampton as a Professor of Psychology and Social Justice and started her new role at the beginning of July.

She said: 'It is exhilarating and daunting, but also hugely gratifying, marking a huge career milestone for me.

'Fifteen years ago I was working as a groom and although I would never have predicted such rapid progression in my field, I always knew I wanted to apply myself to real world issues, which I now feel privileged to be able to do.'

An example of what can be achieved
As the youngest of five from a single-parent family, she added: 'I had very little formal schooling as a teenager and was more likely to be found milking cows and training young horses than in a classroom.

'I'm proud to see myself as an example of what can happen when you remain motivated in goal pursuits and hope I can serve as a role model to others, who perhaps like me haven't trodden the traditional path to academia.'

Relishing the prospect of working at Teesside University, Professor Meek said she is ready for a new challenge and as well as teaching, is particularly looking forward to the research aspect of the role.

She added: 'I spend a considerable amount of time travelling around the country to carry out research in different prisons and community settings and look forward to extending these activities in my new role.'

Professor Meek will be based within the University's Social Futures Research Institute, which aims to grow research and enterprise around the key theme of society.

She said: 'This complements my multi-disciplinary interests perfectly. I am first and foremost a psychologist, but all of my research has an applied element and it is in the contexts of prisons and criminal justice systems where I am most enthusiastic about carrying out and applying psychologically informed research.

'It was the aims and priorities of the research institute which attracted me to the role, and I can certainly identify with the aspiration to explore societal issues on an individual and group level since, as a social psychologist, that's the lens through which I approach things.'

Professor Meek studied at the University of Sussex, where she completed a degree in social psychology, a master's in psychological methods, a postgraduate certificate in higher education and PhD in psychology.

She added: 'As long as I still feel there are important criminological issues that psychology as a discipline, and myself as an individual can contribute to, I think I'll be as passionate as ever about my job.'

11 July 2012
In the News
Sport to help reduce offending
Press Association, 10/08/2012; Hartlepool Mail (Web), 11/08/2012; Jarrow & Hebburn Gazette (Web), 11/08/2012; Northumberland Gazette (Web), 11/08/2012; Sunderland Echo (Web), 11/08/2012; Shields Gazette (Web), 11/08/2012; Peterlee Mail (Web), 11/08/2012
The power of sport can be used to stop people reoffending, according to Teesside University academic Professor Rosie Meek and a charity which works with prisoners. The Prisoners' Education Trust has looked at how sports-based learning for prisoners can make a difference to their actions once released.