CIPR Excellence award winner
Website wins a national excellence award
The national CIPR (Chartered Institute of Public Relations) Excellence Award is in the category of Best Website, Microsite or Intranet.
The CIPR Excellence Awards received over 750 entries across 27 categories in 2010. Teesside was the only University to be shortlisted for an award, alongside national companies such as Nationwide Building Society, Sainsbury's and McDonald's.
Award winning web team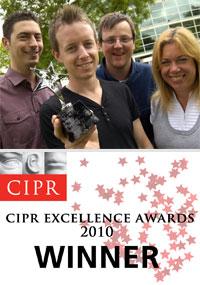 Judges praised the team for the brand execution throughout the site, the innovative approach to design, video, photography and use of imaginative content.
Delivering impressive results
The judges citation said of the University's website: 'Launched to take advantage of a new name and brand for the University, this website delivered impressive results in terms of year-on-year improvements to all sections of the site.
'Showing good use of social media, including an active presence on Facebook and Twitter, this is a site that delivered against all its objectives in a fun, refreshing and lively way. All the more impressive given the tight deadlines and the even tighter budget.'
Professor Graham Henderson, Vice-Chancellor of Teesside University, said: 'I am very proud of the achievements of my colleagues. The University has consciously set out to make a step change in the look, feel and functionality of our website and the skill and imagination they have shown fully deserves this recognition. I am thrilled to share in their success.'
The CIPR Excellence Award comes hot on the heels of the University's recent win of two silvers and a gold at the Heist Awards for higher education marketing.
Sharon Bimson, Assistant Director in Marketing & Student Recruitment, said: 'It is very exciting to see external professionals are seeing our work as one of the best in the country, further endorsed by the Heist awards.'