International Women's Day
A celebration of women's economic, political and social achievements
Find out how Teesside University is celebrating with a series of inspiring events.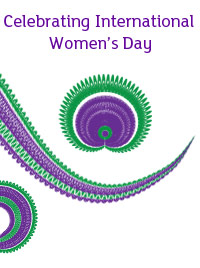 Every year International Women's Day is celebrated worldwide on 8 March. Thousands of events occur, not just on this day but throughout March, to mark the economic, political and social achievements of women.
Every year has a different theme and for 2013 the theme is The Gender Agenda: Gaining Momentum.
Teesside University is proud to be part of these celebrations and has a programme of events throughout March which are open to everyone.
International Women's Day programme
Women's lives, well-being and community
4 - 29 March
This is an arts-based research project conducted in participation with the Regional Refugee Forum North East and Purple Rose, Stockton which uses photography, storytelling and walking as mediums of seeing women's lived experiences, well-being and sense of community in the context of their lives in Teesside.
Find out more
An audience with Jane Atkinson
7 March
A great opportunity to hear Jane Atkinson, a Teesside University Honorary graduate and vice president (operations) at Sembcorp, talk about her career in engineering which features snakes, spiders, alligators and redneck Americans.
Find out more
The space between us
12 March
A play from the Open Clasp Theatre Company, which will be touring the North East in, has been directly informed by young women who identify as Slovak/ Roma and Czech/ Roma, women who are destitute and face deportation after being refused asylum.
Find out more
Events programme subject to change.