News
Still time to apply for Graduate Internship Scheme
Applications are still being sought for our Graduate Internship Scheme which provides opportunities to gain valuable paid experience with a wide range of companies and organisations.
More information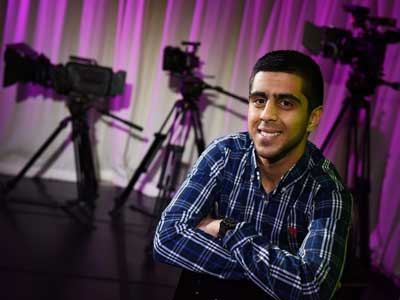 Qasim Baig was one of the graduates on the last Graduate Internship Scheme.
---
The three month internships run from January to March 2017 and provide practical experience which link to the skills developed while studying.

They are open to Teesside University graduates who completed their undergraduate study in 2016 and the deadline for applications is Sunday 20 November.

The internships are just one of the ways the University is supporting graduates to build a successful career following the completion of their degrees.

Teesside University graduates are also being offered a unique opportunity to continue their studies with a trio of new professional qualifications available - and they could be entitled to a 100% fee waiver if they meet certain criteria.

Three postgraduate certificates (PgCerts) are available in Business Practice, Professional Development for Games and Animation and Continuous Professional Development in the Cultural and Creative Industries.

Getting underway in December, the brand new courses have been designed to help graduates to take their first steps towards their chosen career path with additional academic and professional development. They are available to study part-time, two days per week over six months, to allow students to fit in other commitments.

Those who graduated from Teesside University in the 2015-16 academic year, who are not already enrolled in further study and who are earning less than £15,000 could be eligible for a 100% fee waiver and will be able to complete the courses free of charge.

Professor Jane Turner, Pro Vice-Chancellor (Enterprise and Business Engagement) said: 'We recognise that getting your first foothold on the career ladder is an important step and we are committed to providing our graduates with the support to enable this to happen.

'This approach provides an ideal opportunity for graduates to gain vital experience, further develop their employability skills and deepen their knowledge and understanding in a specialist subject area."

15 November 2016
In the News
Teesside University (via Public) / Still time to apply for Graduate Internship Scheme
Public web, 16/11/2016
Teesside University Graduate Internship Scheme is highlighted in the article.