News
Degree success helps Claire to embark on career close to her heart
Studying at Teesside University has helped Claire Morgan to follow a career path close to her heart.
More information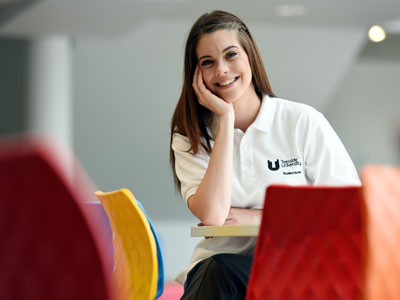 Claire Morgan
---
Claire, who graduates from the BSc (Hons) Nursing Studies (Mental Health), has taken up a role as a mental health nurse in dementia care.

She said: 'Having worked in healthcare prior to starting University, I cared for people who had suffered with mental illness and was interested in learning more about it.

'I felt there was a lot of stigma around mental health and felt passionate about working to try and improve this. There should be no shame in accessing help in relation to mental health.'

Originally from Rotherham in South Yorkshire, 26-year-old Claire is now working in her home town. She said: 'I have been passionate about dementia care since completing a placement with the community older peoples' services during my degree.

'My hope is to progress as a dementia nurse specialist with the aim of becoming an advance nurse practitioner in the future.'

Claire said: 'I heard the nursing programme at Teesside University was one of the best in the country and that it has received awards for its resources, teaching, facilities and placements. This all helped to make Teesside the top choice for me.

'I did research on which local hospitals were local to the University and the opportunities to work in the area and I really liked that the area had lots of lovely parks and the North Yorkshire Moors is close too, so I could go out running along the Cleveland Way and take part in the local Park Run.'

During her degree Claire completed charity runs and marathons to raise funds for a number of charities and also trained as a combat medic with the Army Reserves.

Commenting on her time at Teesside, Claire said: 'I have thoroughly enjoyed it, I have met some great friends and learned valuable skills from the course. I even enjoyed the odd parmo or two.

'I enjoyed the variety of placements, which were a key part of my learning. I really enjoyed experiencing the different roles which fit into mental health nursing. I really feel the degree has helped to prepare me for my career as it provides students with the information and learning essential to prepare for going into practice.

'The University lecturers were supportive in my assignments and were always on hand. Everything you need is on the campus and the facilities and opportunities for students are fantastic.'

A special programme of graduation celebrations is to be held at Wynyard Hall for over one thousand Teesside University graduates. Each of the graduation ceremonies will be streamed live on the University's website at 10:30am and 2:00pm via this link


24 November 2016
In the News
Claire embarks on career close to heart
Northern Echo, 25/11/2016; Evening Gazette, 25/11/2016
Studying at Teesside University has helped Claire Morgan to follow a career path close to her heart.