News
Sarah's community sister role enhanced by degree
Community sister Sarah Mallett says studying at Teesside University has helped her to progress in her nursing career.
More information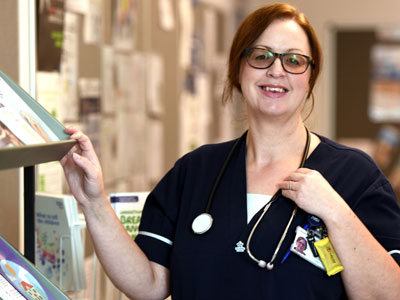 Sarah Mallett
---
Sarah, 37, from Stockton, graduates from the BSc (Hons) Specialist Practice in District Nursing. She is currently working as a community sister with South Tees Foundation Trust. Her role includes managing a caseload of patients and staff within her team.

Sarah said: 'Patients in our caseload have a variety of needs, ranging from palliative care and long term conditions to wound management. I wanted to complete the degree as I felt it would enhance my role.

'Teesside University has a wonderful campus which is friendly and welcoming and the tutors are very knowledgeable, approachable and always willing to help.

'It was also really useful in sharing practice with students who were also working in the same types of job. I made some great friends while completing the degree and we've all kept in touch.'

Before returning to study for the degree, Sarah previously completed an advanced diploma in nursing at Teesside in around 15 years before spending time on a surgical ward at North Tees Hospital in Stockton.

She added: 'I went on to work in community nursing and have been there ever since, starting work as a community sister around four years ago. The degree has been a huge help in furthering my career and I now have a greater understanding of the policies which are driving changes within district nursing.

'I now feel able to move forward in my current position as a community sister and play a part in developing the service which I work in to enhance patient care and be able to face any changes which may come in the future.'

The mum-of-two relished the experience of balancing work with study and family life, saying it provided an opportunity to step back from day-to-day practice 'and gain a fresh perspective which will enhance the work we do'.

Sarah's studies also earned her the Phillip Goodeve-Docker Memorial Prize, awarded by The Queen's Nursing Institute to the top performing student from the district nursing programme in each university.

A special programme of graduation celebrations is to be held at Wynyard Hall for over one thousand Teesside University graduates. Each of the graduation ceremonies will be streamed live on the University's website at 10:30am and 2:00pm via this link

25 November 2016
In the News
Nursing a new degree: Teesside University graduations
Northern Echo, 23/11/2016; Evening Gazette, 23/11/2016; Northern Echo, 24/11/2016; Evening Gazette, 24/11/2016; Northern Echo, 25/11/2016
Teesside University's winter graduation ceremonies are mentioned.