News
Honorary graduate hits the right note to help raise awareness
Teesside University honorary graduate and autism campaigner Anna Kennedy is helping those with the condition express their musical talents with the launch of a charity CD.
More information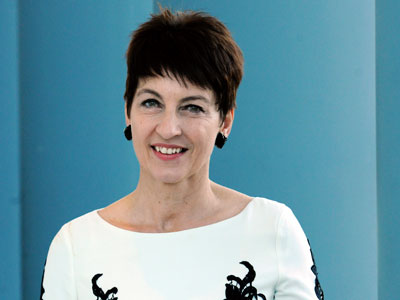 Honorary graduate Anna Kennedy
---
Anna is behind the Building Bridges CD featuring music written and performed by people with autism.

The charity album launch coincides with Autism Awareness Week, from March 27 to April 2, and World Autism Awareness Day on April 2, which aim to increase understanding and acceptance of autism.

Anna became an honorary graduate of Teesside University in 2013 in recognition of her achievements and campaigning. She is mum to sons Patrick and Angelo, who are both affected by autism.

She has been working on the CD project for the last 18 months, leading up to the recent album launch at the Hard Rock Café in London.

Anna, who is patron of the Stockton-based Daisy Chain charity, said: 'I hope people are inspired by what we have produced. It was overwhelming, the kids are on such a high.'

She also hopes the music will continue to be a big help for autistic children as well as raising awareness of the condition.

Anna said: 'They use music to get through stressful times, and writing songs helps them with their thought process. It gives them all confidence and keeps them going.

'Words of encouragement about what they do empowers them. They all had smiles on their faces at the album launch and said they wanted to do it again.'

She is now hoping to run a third Autism's Got Talent event, previously held at Teesside University and the Arc in Stockton. Anna said: 'It is such an uplifting show and is really inspiring for all the families in the audience.'

Building Bridges is available to buy on iTunes.

23 March 2017