News
University study sets prize winner Daisy on track for research
More information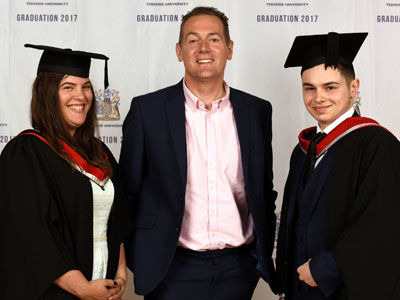 Daisy Campbell and Adam Gilmartin pictured with Andy Preston, centre, of Middlesbrough and Teesside Philanthropic Foundation
---
Daisy Campbell's research as part of her Teesside University degree studies brought her a special prize along with academic success.

Daisy, who graduated from the BSc (Hons) Sport and Exercise (Sport Studies) this summer, was one of three graduates to each be awarded the Middlesbrough and Teesside Philanthropic Foundation prize of £100.

It was the first time this prize has been awarded to Teesside University graduates by Middlesbrough and Teesside Philanthropic Foundation.

The two other recipients were BSc (Hons) Sports Therapy graduate Adam Gilmartin, who won the prize for the most innovative project and BSc (Hons) Sport and Exercise (Applied Sport Science) graduate Daniel Moore, who received the prize for most improved student.

Daisy and Adam accepted their prizes from Andy Preston, chairman of the Middlesbrough and Teesside Philanthropic Foundation trustees.

Daisy, 29, received her prize for best research dissertation in sport and exercise. Her research project examined women in motor racing. She is now continuing her studies at Teesside University at postgraduate level, developing the research which won her the prize.

She said: 'It was a complete shock to be told I had won the prize, but also an amazing honour. I chose this dissertation topic as I have always been interested in motorsport as a spectator and the question why are there no female racing drivers regularly racing in F1 has always niggled in my mind.

'I have taken part in male-dominated sports since I was a teenager, having raced in Laser dinghies at national level as a teenager, I also snowboard and have interests in other alternative sports. From these experiences I wanted to explore how women negotiate sport from the female point of view.

'My dissertation investigated the experiences of female racing-drivers within motorsport, focusing primarily on the socialisation of female racing drivers and factors which have kept the drivers racing.'

She added: 'As a result of my dissertation I am a member of Dare to Be Different, an initiative to encourage women into motorsport. Having spent time researching women in male-dominated sports.'

Originally from London, Daisy also lived in Somerset before moving to Middlesbrough. She said: 'The location was ideal and the University provided excellent teaching support for mature students. I have had an amazing time at Teesside and have made friends for life. The support from all the staff has been fantastic.

'I am planning to use the £100 prize towards travel to further my engagement in women in male dominated sports as part of my master's studies.

'I hope to be able to continue researching women in male dominated sports within academia. I would recommend the sport studies at Teesside to anyone interested in sport and the impact sport has on our lives.'

Businesses and individuals keen to get involved in making a donation, exploring scholarship opportunities or sponsoring a graduate prize should contact the University's alumni development team on 01642 738227 or email development@tees.ac.uk.



17 September 2017