News
Degree course put Louise on the frontline
University has taken Louise Turnbull in a whole new direction working on the policing frontline.
More information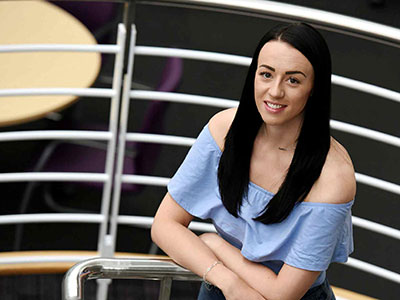 Louise Turnbull
---
BA (Hons) Business Management graduate Louise had taken time out to support her family and be at home with her children but later decided she wanted a career. She completed an Access to Higher Education course before applying to Teesside University.

Louise, who grew up in the village of Caldwell in North Yorkshire, is now embarking on a new career on the Police Now leadership scheme for graduates at Northumbria Police.

The two-year national leadership programme trains outstanding graduates to become Police Officers. Its mission is to transform communities, reduce crime and increase the public's confidence in policing.

Louise said: 'The recruitment process was very difficult but to be successful was one of the most exhilarating experiences of my life.'

Reflecting on her time studying, Louise says that university has changed her life in more ways than one.

'Being at university has helped me in all aspects of my life. My children have a more confident, happy mum who is showing them that they can do anything if they put their minds to it. You're not just defined by the roles you have had previously,' Louise explained.

'My daughter wants to be just like me when she grows up and she can't wait to see me graduate.'

For Louise, her experiences and the people she has met along the way have been the highlight of her time at university.

She added: 'I welcomed every opportunity that came my way and engaged with everything that I could while I was at university.

'I have made some wonderful contacts and friends for life through volunteering, along with professional friends who helped me complete my dissertation.

'University has provided me with the support and confidence to be a better version of myself.'

20 July 2018
In the News
Degree course puts Louise on the frontline
/Northern Echo, p19, 20/07/2018, Evening Gazette, p56, 20/07/2018
University has taken Louise Turnbull in a whole new direction working on the policing frontline.