Craig Dufill
Craig is a project co-ordinator at IBM
BA (Hons) Business Management
'Teesside has a real community feel which makes you feel valued.'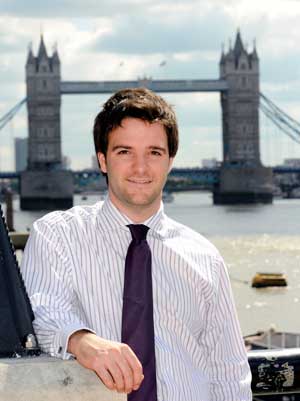 At IBM I am responsible for facilitating and administrating projects within my portfolio of ten private-sector clients. Working as a member of our Smarter Workforce team, I help to deliver one-day professional skills workshops and two-day leadership development centres for senior-level professionals. I am also responsible for the branding of our client materials, managing our internal and external delivery consultants and the administration of online leadership diagnostic products.

After graduating I was offered a project management recruitment position for a multinational recruitment organisation in London. This role gave me the opportunity to network and build relationships with professionals within the work areas I was looking for. I was then offered the opportunity to move back to IBM, where I had completed a one-year placement year as part of my degree course. This placement year allowed me to get acquainted with the working world, be responsible for delivering business value and develop my task-based skillset. This placement has given me a great platform to build my career and looks great on my CV.

My degree is certainly relevant as I now have a greater understanding of how organisations are managed and I have gained knowledge of how a business operates within its internal and external environments. The softer skills I gained have enabled me to perform better in my role, giving me confidence in team working and meeting deadlines. In the longer term I plan to run my own business so I'm building the practical skills I need to be able to do this.

The main factor for choosing to study at Teesside University was the level of investment in its campus and facilities, making it a great modern university. I chose a business degree as I knew I wanted to run my own company and wanted the theory and knowledge to support this.

I benefited from some career support, some very practical elements like developing my CV, advice on career planning, interview practice and assessment centre preparation materials which gave me a detailed insight into what employers were looking for in a successful candidate. Teesside University has a real community feel which makes you feel valued as both a student and as an individual.