Crystal Cha
Crystal came from Malaysia to top up her qualification, returned to Malaysia to begin a successful career in corporate communications and is now ready to embark on an MBA.
BA (Hons) Multimedia Journalism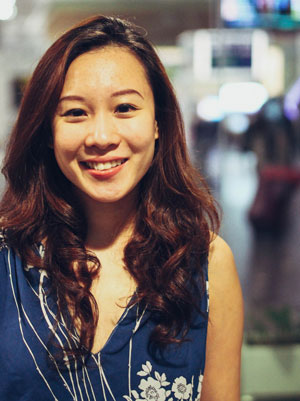 What brought you to study at Teesside University?
I'm an international student, from Malaysia. I did my Diploma in Mass Communications at the Life College, which has a 2+1 twinning programme with Teesside University. I completed a 2.5 year Diploma and then topped it up with a final year of study at Teesside to graduate with a BA degree.

I had a choice to apply to either Teesside or another university. At that time, Teesside had just been named one of the top modern universities in the UK and was said to have great courses related to the field of study I was interested in pursuing. In addition to Teesside University's reputation, I also chose it because the cost of living in Middlesbrough is much more affordable compared to closer to London. Most of my Malaysian friends tended to pick London to further their studies, out of familiarity and reputation. I guess I was kind of a rebel and wanted something different that would also allow me to travel and see the scenic North East countryside and Scotland while I was studying.
Did you enjoy your time at Teesside?
Yes – the course was 100% project based and so I am actually applying the practical skills that I have learnt while getting critiqued by real-world practitioners. In the field of communications and media, real-life experience is far more valuable than theory. I had great feedback and mentoring from the lecturers who were actual media practitioners themselves. Their guidance was very helpful in building my self-confidence to excel at what I do.

Middlesbrough is a great location - easy for day trips to Newcastle, York, Whitby, Durham and Edinburgh. And I enjoyed getting to explore a side of the UK that most of my Malaysian friends who studied in London didn't see. I also enjoyed the Tees Extreme Dance Club.

What are you doing now?
I start an MBA program with the Asia School of Business in partnership with MIT Sloan later this year and am expected to graduate with the Class of 2018.

Since graduating from Teesside University, I spent 5 years working with the YTL Group, a multinational conglomerate operating in three continents, with core businesses in utilities, construction contracting, cement manufacturing, property development and investment, hotel development and management, e-commerce initiatives, and internet-based education solutions and services. I joined as a communications executive and after a year became marketing communications manager leading a team of design and content executives for one of YTL's subsidiaries, an online education company called FrogAsia.

FrogAsia grew from a small team of 5 to almost 70 employees in just two years. Having been there since the beginning, I had the privilege (and steep learning curve!) of hand-picking and growing a team from scratch. In a short time, we worked closely with product development teams to launch multiple company websites, content portals and integrated service portals geared at different user types. We developed content strategies and editorial calendars for our target market, spending a lot of time in schools getting to understand our end users while working closely with experienced educators.

I then left FrogAsia to pursue some entrepreneurial dreams of mine, including running a cafe and starting a freelance writing business. I've been freelancing for the past year now, and am gearing up to go back to school to supplement my professional experience in communications with business skills as well.