Rebecca Kranz
Rebecca's postgraduate degree led her straight into a rewarding job.
MSc Diagnostic Radiography
'The clinical placements were excellent, and allowed the students to really get stuck-in and gain hands-on experience, which is the best way to learn the practical aspects of the job.'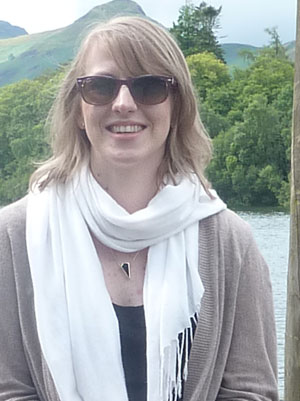 What brought you to study at Teesside University?
After I completed my BSc (Hons) Biomedical Sciences degree at the University of Sheffield, I was keen to pursue post-graduate study. I used the prospects.ac.uk website to explore potential career paths that incorporated elements of my undergraduate degree, such as human anatomy and disease. I discovered the Diagnostic Radiography Masters course at Teesside, which would allow me to achieve a higher level qualification whilst building the foundations of a vocational career. Also, a UK qualification in Radiography is internationally recognised, so there is the exciting opportunity to work abroad.
What was the course like?
The facilities, in particular the Library Services, were second-to-none and were really accessible to students. Specific to Radiography, the image database (Digital Teaching Library) was a great asset and proved to be very useful for image interpretation studies as well as in my Major Project. Additionally, I really enjoyed my clinical placements at Newcastle Upon Tyne Hospitals NHS Foundation Trust, which was an exciting and innovative environment in which to learn. The clinical placements were excellent, and allowed the students to really get stuck-in and gain hands-on experience, which is the best way to learn the practical aspects of the job. The variety of diagnostic imaging services offered in the region allowed me gain experience in a multitude of different areas, from Major Trauma Centre A&E imaging to breast screening to neuroradiology, and the opportunity to undertake an elective placement in a different Trust further widen my experience and increased my confidence to prove my skills were transferrable to different equipment and ways of working.
What are you doing now?
I was successful in gaining employment at my first job interview and I am working as a Diagnostic Radiographer at the Gateshead Health NHS Foundation Trust. As a Diagnostic Radiographer, I undertake plain-film imaging as well as fluoroscopic theatre work on a shift rota that includes out-of-hours working. This allows me to work as part of a wider radiographic and multi-disciplinary team, as well as independently, to achieve the optimal diagnostic images for patients whilst delivering the best patient care possible. I am also an Improving Working Lives (IWL) representative for my shift tier, allowing me to act as a conduit for information: voicing the thoughts and suggestions of the radiographers at meetings with senior staff and as well as communicating discussions back in order to continuously improve the work environment. In this role, I have also helped to organise charity bake sales as a fun way of raising money for worthy causes.
I have been building upon my knowledge and skills gained as a student in this first post. I am now part of the shift rota, which includes out-of-hours working. Outside of work, I submitted my Major Project (dissertation) poster to the UKRC and ISRRT congresses in Manchester and Helsinki respectively, which was accepted at both. I attended each event and was delighted to receive first prize at the Helsinki congress for the poster. The conferences in themselves were such a great experience to meet radiographers from around the country and the rest of the world, and to see how knowledge is shared first-hand. However, to gain such prestigious recognition for my work was really fantastic and hopefully a great start to my career. I have recently submitted a re-worked version of my Major Project for publication with a leading journal in the field with the assistance of my project supervisor, and we are eagerly awaiting the results.