Paul Watson
Paul's passion for his work has given him a national profile.
PgDip Specialist Community Public Health Nurse – School Nurse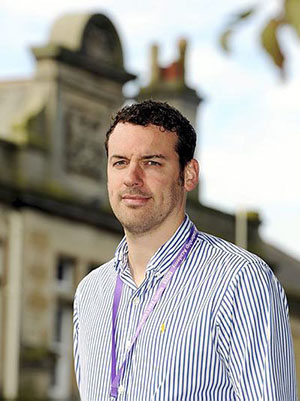 What brought you to study at Teesside University?
I attended Teesside University as it was the university attached to my NHS trust secondment.
What was the course like?
My time at Teesside University developed my skills and knowledge base as a specialist practitioner. The course also taught me how to deal with stress in a productive way. While the course is very challenging, the public health academic staff are very supportive and have a wealth of knowledge and experience.
What are you doing now?
I work for Northumberland Tyne and Wear NHS Foundation Trust within the CAMHs team as a targeted Tier 2 practitioner, providing a link between school health and CAMHs.

I work as a member of an integrated mental health nursing team and collaboratively work in partnership with a multitude of health professionals to systematically profile and identify the mental health needs of children and young people in the local area. This includes agreeing appropriate prioritisation of work, delegation to appropriately trained staff and risk management where necessary within the team.

As a specialist community practitioner I provide support, advice and early intervention to families undergoing difficult or crisis situations because of issues such as domestic violence, relationship breakdown, drug or alcohol or substance misuse, mental health problems and issues relating to ethnicity.

I am an ambassador for the role of the school nurse. Additionally, as a service child and having served in the Army I have a great understanding and empathetic view of the military community. Over the last four years, utilising my past and current experiences, I have passionately used social media as a platform to champion, motivate and drip-feed information about the issues for children and young people of military families, informing a vast array of public listeners about the effects military life can have on some children and young people, especially their emotional health and well-being.

I championed these issues as a member of the National School Nurse Advisory Group, demonstrating the need to create a more cohesive transformational pathway for this unique community, some of whom may at times drift in and out of vulnerability, requiring additional support. A steering group has been set up to create and manage working relationships with strategic partners and stakeholders to meet the needs of this unique population. This issue has now been placed on the national school nurse agenda and is currently being addressed by a national school nurse working committee, of which I am a member.

I continue to work on the national steering group for the military children school health and health visitor pathway. This pathway will be published in September 2015.

I recently attended the first National Military Families conference where I delivered a master class which addressed the importance of understanding child vulnerability and the need to provide a secure base for military children and young people.

This work led me to be nominated for the regional North East NHS Emerging Leader Award, which I was fortunate to win. I was also nominated as a national finalist in the category of NHS Emerging leader.

I have also been invited to the 2015 School Nurse International Conference to deliver a masterclass on creating a secure base for military dependant children, young people and young carers.

I co-wrote and article with Dr David Evans - Spotlight on Sexual Health and education for Military veterans and families: http://sheu.org.uk/x/eh332dte.pdf