Nauman Ahmad
Nauman has gone straight into a job using his new skills, including those he learned during his industrial placement year.
BEng (Hons) Electrical and Electronic Engineering, 2014
The group projects were a major contribution to obtaining my placement and securing my graduate job.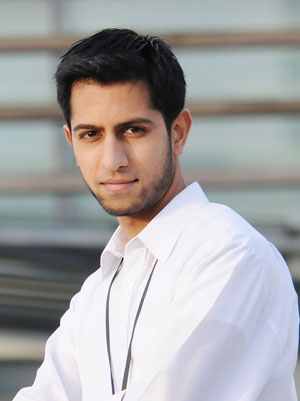 What brought you to study at Teesside University?
When I decided to continue my education to degree level, I was unsure whether to study Electronics or Electrical Engineering. I chose Teesside University because the course covers both fields. This enabled me to identify which subject area I was interested in and keen to develop.

I received good feedback from people who had studied engineering at Teesside, and the University has good connections with the industry. Teesside had the course that suited my requirements, and was close to home, so it was the ideal place for me.

What was the course like?
The whole university experience was a good and memorable journey. I enjoyed meeting new people, working with fellow-students and lecturers. I probably enjoyed the group project weeks the most, as they are different from the normal weeks of lectures and lab work. Again you meet new people, everyone in the team works together as a whole, supporting each other, working at their own tasks and discussing solutions to problems. During the project you experience tough situations but at the end you enjoy seeing the results of your team's efforts and the good times you had with the people you worked with. The group projects were a major contribution to obtaining my placement and securing my graduate job. This provided the skills and experience of undertaking a project, with a given specification, performing research, developing a design, hardware build, testing and fault-finding problems, all within a limited period of five days. I could to apply my knowledge and experience in an environment of a typical project in industry.

The facilities are set at a good standard, and the lecturers have been great to work with. They have many years of experience and are experts within their field.

After my second year, I undertook a 12-month industry placement at Farnell Element 14 based in Leeds. My role was in the Technical Support department, supporting customers on technical queries regarding electronic components. The industry experience enhanced my knowledge of components by daily use of datasheets, understanding customer requirements, learning from colleagues, and training given by manufacturers.

During my final year I was involved in the Diversity scheme and given a mentor to support my development. My mentor provided further guidance on job applications, interviews and industry experience. The mentoring scheme provided a path to set professional standards in my work.

What are you doing now?
I am working as a Graduate Electronics Engineer with Filtronic. Filtronic designs and manufactures a broad range of RF, millimetre wave and microwave electronic products for the telecommunication industry. My role involves designing the electronic circuits and the Printed Circuit Board (PCB) layout for Filtronic products. My work begins with a theoretical design on schematic, simulations to verify operation where possible, then design their layouts on PCB. Collaborating with mechanical / RF and test engineers to take a design from concept to manufacture and ensure final designs fulfil the requirements by leading design reviews. I communicate with PCB manufacturers and component suppliers regarding technical queries. I undertake testing on component and circuit performance and fault-find any problems.

Since starting this job I have been sent on Altium training regarding PCB design. My knowledge of electronics has greatly improved through the tasks undertaken, self-study and application of theory. I am currently responsible for the circuit design and PCB layout. I have been working with my colleagues on understanding the RF elements for our designs. I also gained hands-on experience performing tests with specialist RF equipment.