BSc (Hons) Chemistry
'Without my degree and these experiences, I wouldn't be in the position I'm in today.'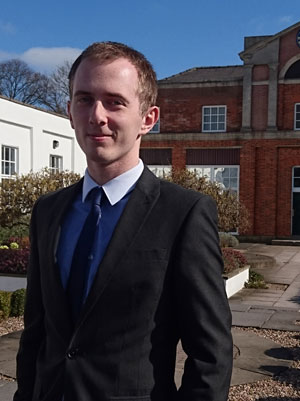 I've been interested in chemistry and a career in chemistry since college. When I attended a Teesside University open day, it was clear a lot of support was available to help get paid work experience and to achieve during my studies. I felt that Teesside was a great fit for me and a logical stepping stone to working in chemistry.

The course was interesting with a good mix of study, coursework and lab work, and the lecturers are enthusiastic and brought out the best in me. I had a placement year at GSK in Cumbria, where I worked on lab processes that were transferred to the site's manufacturing plant. I also supported the site with any manufacturing issues. It was really enjoyable to immediately see the effects of my work and it confirmed my interest in working for a chemical company.

Teesside University is part of an active network for chemists in the region, and I really liked meeting chemists and chemical industry staff across the north east. Everything I needed was within walking distance and the social side is great too, particularly the nightlife and University clubs and societies.

It is really valuable to get involved in University activities. I created Teesside University's Chemistry Society. We organised a mix of social events – talks, trips, pub quizzes and nights out. I also joined Enactus Teesside where we ran community projects including English language courses for refugees. Middlesbrough is in a great location if you like the outdoors, with the North York Moors on its doorstep.

Studying chemistry at Teesside University has helped me learn and experience a lot in a short amount of time, and has given my career a head start. Without my degree and these experiences, I wouldn't be in the position I'm in today.

The careers service was priceless during my final year for advice to help me get a graduate job. I found it difficult to sell myself and I appreciated having someone else's perspective on how to make employers want to interview me and, ultimately, offer me a job.

I managed to get a place on Croda's graduate programme – an accelerated training course to a permanent job. I've learned about different areas of Croda such as marketing, supply chain, research and development, and quality assurance. Being on the graduate programme allows me to work in three departments for around eight months each. My current role is in Croda's European purchasing team, where I work with Croda sites and suppliers across the continent to ensure that our customers are always able to buy the products they need. I am also responsible for developing a new tracking system to save money when buying items in our indirect spend category.

As well as on-the-job training, I have mentoring support from senior managers and graduates further into the programme. Most importantly, I have made great friends at work, and I may have the opportunity to work abroad. I would like to have a long career with Croda and I hope that, in the future, I'm seen as a role model. I'll be making sure I gain a lot of knowledge of the business and its industry in the next few years.

I would definitely recommend Teesside University. The chemistry lecturers have an obvious passion for the subject and I learnt about different areas of chemistry. The library facilities are good – there were plenty of books to read around the course topics and other chemistry areas that interested me. A chemistry degree from Teesside University has given me a good education and a huge amount of employability skills. Lecturers have well-established, close links with employers, so they understand what qualities employers look for in students.

I also recommend joining the Chemistry Society – it helped a lot of students on my course and is certainly worth getting involved in. I challenged myself and was active in lectures, clubs and societies – this gave me fantastic career prospects when I graduated.

The course offered value for money as it has given me experiences beyond what I thought would be possible. Most of the other chemistry graduates I met at Teesside University are now either in postgraduate study, jobs or teacher training programmes.