Danielle Jones
Video editor, ITV Yorkshire
Graduated with honours in TV production
'I became video editor within three years of graduating.'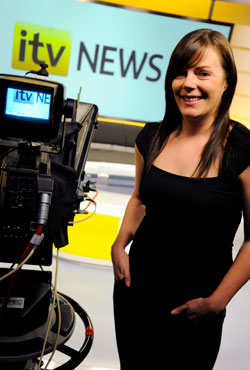 I chose to study at Teesside because the tutors are all industry professionals and the equipment is industry standard. I also knew I would gain a lot of practical experience on location and in Aurora House (the University's media centre) which is what I wanted. The degree focused on making factual programmes which was also a big factor – it's where my media interest lies.

I chose to study television production after studying A level media studies when I'd decided on a career in the media industry.

The campus and services offered at Teesside are excellent. There is everything you need within the vicinity of the campus. The University's job centre and student support were extremely useful. I stayed in halls in the first year – close to the university with good security and en-suite bathrooms which were obviously a bonus.

The social life at Teesside is excellent. The Students' Union offers a variety of nights to suit everybody. The main town centre is only a five-minute walk away – ideal for shopping and clubbing. There are quite a few places to go out in town and it's good value.

I would recommend Teesside to anyone – the course tutors and equipment are ideal for foundations for a career. The facilities on campus and the surrounding areas helped make my university experience everything I wanted it to be.

I am a video editor for ITV Yorkshire's regional news team, Calendar. I started working at ITV in 2005 as a technical operator for signpost and then moved to ITV Yorkshire as a technical operator for news. I became an editor within three years of graduating which was my goal. The next stage is building my skills as an editor.