Rosie Hare
Interlending assistant, King's College London
BA (Hons) History
'A history degree was invaluable in giving me the skills to manage my time and use a library in the most efficient way.'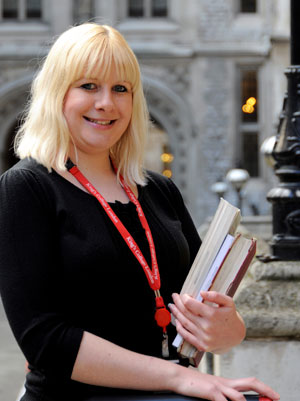 What brought you to study at Teesside?
After three years working part-time in a local lending library I came to Teesside. I am from the area and wanted to study locally. I had a number of friends who had been and loved it, so I decided to apply for the history degree. I had dropped history at school, so I didn't have a GCSE in the subject, let alone an A level. I'm so glad that the admissions tutor was open-minded. I wanted to get a qualification in a rigorous academic discipline to give me an excellent foundation for becoming a librarian
What was the course like?
I felt that I had found my ideal subject, and got my education back on track. I loved the course content and the lecturers. It was such a supportive and encouraging environment. A history degree was invaluable in giving me the skills to manage my time and use a library in the most efficient way. I also had a part-time job in Teesside University library while I was a student, so I was constantly building on my skills to pursue a career in the field I wanted to work in. I made friends and professional contacts for life. As I am from the region, I had always loved it, but I still enjoyed spending time on campus and making new friends..
What are you doing now?
I'm an interlending and document delivery assistant in the library of King's College, London. I am responsible for processing inter-library loans for King's users as well as fulfilling external requests from other institutions and dealing with queries and other projects within the department as and when required. I've already started studying for a professional library qualification through distance learning at another university - an MSc Information and Library Studies.