Sarah McCormick
Public relations and events manager, Visualsoft eCommerce
BA (Hons) Marketing and Public Relations, class of 2009
'My time at Teesside University definitely prepared me for the world of full-time work.'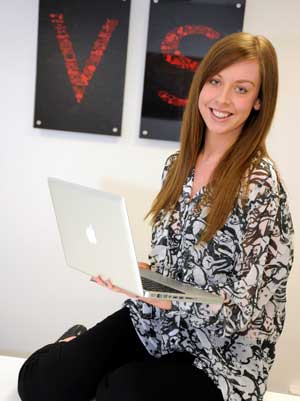 My role at Visualsoft is a really varied and challenging role – no two days in the week are the same. My main focus is to use various media and communication routes to build, maintain and manage the reputation of Visualsoft, as well as organising, managing and overseeing events within the company and building our relationships with our industry partners.

I maintain and update the company's website, blog, social networking sites and liaise regularly with lots of different people including Google, PayPal, Skrill and eBay who we work very closely with. I'm also responsible for marketing materials, press releases, monitoring media coverage and get involved with client-based activities, internal communications and various company events.

I started at Visualsoft as a marketing assistant just a week after finishing my degree in 2009 – the post was advertised through the University's career service. I helped out with everyday tasks in the two-person marketing and sales department, updating databases and sending out brochures to potential clients. I worked my way up to marketing and communications executive and then was offered the new role of public relations and events manager in 2011.

My time at Teesside University definitely prepared me for the world of full-time work through workshops and one-day visits to regional businesses including The Gazette. Coursework and assignments prepared me for the deadlines and timescales I work to every day, and I still use my academic studies in the work I do. But nothing can fully prepare you for the real world of work.

In the future I'd love to complete a master's degree at Teesside University, whilst building Visualsoft's public relations and events team.

I chose marketing and public relations because it sounded exciting and varied. And Teesside University Business School came highly recommended by friends who had successfully completed their studies there. My degree was really enjoyable which I wasn't expecting. My tutors and lecturers were all really helpful and friendly – nothing was ever too much trouble. The social side of University was great fun too – I made a lot of close friends.