Lauren Barker
Lauren's employers supported her part-time studies.
MSc Marketing Management
'My master's has enabled me to tackle new projects with confidence and a lot more determination to succeed.'
Part-time study at Teesside University
Lauren Barker, online media executive with SCS, studied MSc Marketing Management part-time at Teesside University.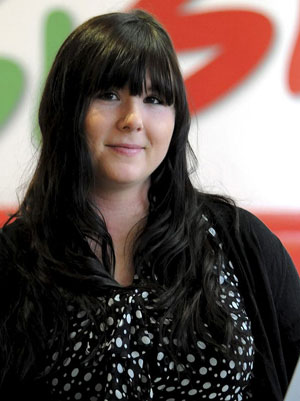 What brought you to study part-time at Teesside?
After school and college I took a degree in criminology and sociology, graduating in 2008. I work full time as online media executive at ScS, head office of the national furniture retailer in Sunderland.

I studied MSc Marketing Management part time. I have always had a thirst for knowledge and have always been creative and innovative within anything I am involved with, but lacked the confidence and theory behind my ambition. I also wanted to move up within my career. I am interested in consumer behaviour, customer relationships and management in general, so I thought what better solution than to study marketing management at a higher level. It opened up opportunities within my job role, and allowed me to meet some extremely influential people within the world of business.

What was the course like?
Juggling work full time in Sunderland and commuting to Middlesbrough every week was strenuous. But the moment I sat in the classroom and listened to the professional lecturers it was truly inspiring and made me even more driven. I tended to enjoy the pressure, strange as that may sound. I understood that this was a very important time, so I put my work and studies as a high priority, but I did need to take time out to visit friends and let my hair down, and remember it was not all hard work.
Were your employers supportive?
My employers were extremely supportive; they even funded my course. While doing my master's I was given the opportunity to move within various departments within our company – from online sales to marketing executive - and then promoted to online media executive as part of our ecommerce team. I feel my course definitely helped me gain the confidence to apply for my latest role, and the knowledge to get me where I am today, being able to mix with all levels of management with great ease.
Is it worth it?
Yes, 100%. I now have a clear career path which I never felt I had before. I have made new friends who are just as driven and ambitious as me. Most of all, I have fulfilled a personal achievement – I can do anything if I put my mind to it. I love the subject of marketing management and would recommend this course to anyone.