Business consultancy
Focused on inspiration
Taking care of your business
We have a huge variety of consultancy expertise and experience. It doesn't matter what size your business is – our clients range from small and medium enterprises to national and multinational businesses and major public sector organisations.
We cover a diverse range of fields – forensic science, clean manufacturing, materials testing, industrial design, data security, enterprise resource planning implementation, health practice accreditation, process visualisation, executive mentoring, market development and software architecture.
Be inspired - contact us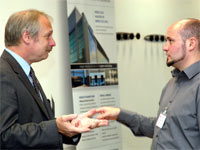 Call on 01642 384068 or email business@tees.ac.uk and we'll identify the expertise and consultancy package to provide you with an effective solution.
Consultancy expertise
Putting the customer first
We are the only North East preferred provider of Customer First Ltd. Find out how we can help you achieve this standard.
Putting the customer first
Fraud and financial crime
We work with law enforcement agencies and the private sector to combat this growing threat.
More about fraud and financial crime consultancy
Health sector
We have comprehensive expertise in the issues and practice affecting all aspects of health and social care.
More about business services for the health sector
Leadership and organisational change
Our Centre for Leadership and Organisational Change (CLOC) develops and consolidates research, consultancy and training activities.
More about leadership and organisational change
Manufacturing
Teesside Manufacturing Centre (TMC) offers a total enterprise integration service in design, manufacturing and business process improvement.
More about Teesside Manufacturing Centre
Public governance
Our consultancy reflects both the regional and national agendas for education and government.
More about public governance
Science and engineering
Consultancy services include materials or product testing to traceable standards, wet and dry analysis, design and computer modelling in all engineering disciplines, benchmarking and QA.
More about science and engineering consultancy
If you're developing a new drug product and need help and guidance our Pharmaceutical Analytical Consultancy Services (PACS) could be the answer.
More about PACS
Sport
Our sport science service can assess your fitness levels for your sport, highlight areas of strengths and weaknesses so you can set goals to improve your sporting performance.
More about fitness testing for sport