entrepreneurs@tees
How do I join?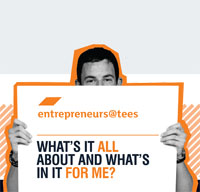 You just need to get in touch:
It's your future
Supporting and encouraging entrepreneurship
entrepreneurs@tees offers a range of exciting events and challenges to help you become an entrepreneur of the future, and add powerful evidence to your CV of your business sense and capacity.
entrepreneurs@tees works closely with Teesside Entrepreneurs, the student enterprise society, to help develop your enterprise skills and make sure you make the most of your time at University.
If you want to be the next Alan Sugar or just want to learn and experience business in a fun and informal way the entrepreneurs@tees programme could be for you.
Teesside Entrepreneurs Society needs YOU
Teesside Entrepreneurs, the student enterprise society, is looking for students to get involved in running it. In particular they need a management committee of enthusiastic and dedicated members who can manage this year's activities and events.
Membership is open to students, alumni and graduate businesses and is a great opportunity to meet some interesting people, make new friends and put something really useful on your CV. To find out more, email ents@tees.ac.uk.
How I . . . entrepreneurial masterclasses
Our fun, informal How I . . . masterclasses include an opportunity to meet a whole host of successful entrepreneurs and find out how they've achieved huge success in business. To find out more, email ents@tees.ac.uk.
Enterprise development programme
Are you interested in starting up a business or do you want to improve your enterprise skills? Our workshops can polish up your skills and hone areas that you really want to improve including sales, marketing, legal and finance. Early booking strongly advised, email edp@tees.ac.uk
Club meetings
A not-to-be-missed opportunity to find out more about Teesside Entrepreneurs, what you can do or just to meet new people. Club meetings take place every Wednesday at 5.00pm in the Victoria Building.
'Teesside Entrepreneurs has been a life changing experience. It has provided me countless opportunities to get involved with like-minded people, take on challenging business style competitions, meet charismatic and inspirational people and most of all motivated me to reach my potential in life.'
Ryan Marshall, current President of Teesside Entrepreneurs
What people say about entrepreneurs@tees
We have an outstanding reputation in helping students start real businesses and the University has helped launch over 300, including computer games companies, animation studios, graphic design companies, and many, many more.
Just the act of applying for the entrepreneurs@tees challenges and blueprint awards brought countless benefits like networking, inspiration, contacts and University support.
Phil Wilkinson, Edutal, Digital City Fellow and Teesside University incubated company.
Teesside has given me continuous business start-up support, including mentors, workshops and the confidence to move forward with my business ideas.
Steven Miller, Inspired Web, Teesside University virtual incubated company.
I am absolutely overjoyed to have been awarded two prizes at blueprint. This really acknowledges the success of the company and the hard work of our staff.
Vinnie Morgan, Mango Creative Studio, Digital City Fellow and Teesside University incubated company.
With five new members of staff, a network of clients, business contacts and University professional advisors we plan to expand our business here on Teesside.
Rachel Barnes and Sharon Atkinson, Call Agents UK Ltd, Teesside University incubated company.