Global entrepreneurship week at Teesside University
Get a spark of inspiration as entrepreneurship goes global
The University for business supports global entrepreneurship week- 12 - 18 November 2012.
Be inspired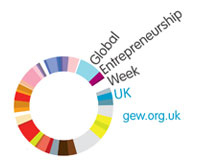 'Teesside University is a fantastic University for working with business and what it is doing to stimulate entrepreneurship is very close to my heart.'
Duncan Bannatyne - entrepreneur, star of Dragons' Den and honorary graduate
The University for business supports global entrepreneurship week - 12-18 November 2012
Global entrepreneurship week is the world's largest campaign to promote entrepreneurship, taking place in 115 countries.
At Teesside University we have a week packed full of events for students, staff, entrepreneurs and the business community.
To help embed social enterprise in higher education, the University has drafted in top social entrepreneur Kate Welch OBE DL to offer specialist support and we will be kicking off the week with special sessions for budding social entrepreneurs to meet Kate.
There will be a public audience with Professor Graham Leslie, serial entrepreneur and founder of Galpharm International, the largest UK privately owned OTC Pharmaceutical Company which also created a private research-driven division.
Graduate entrepreneurs will also be giving away the secrets of their success and students will have the opportunity to take part in activities and challenges across campus.
Teesside University supports Global Entrepreneurship Week because driving excellence in enterprise, nurturing entrepreneurship, and inspiring success is at the heart of our mission as a leading, business-engaged University.
Our entrepreneurial approach of creative problem solving, innovative research and ultimately commercial success is based on Teesside University's students, graduates and staff working across disciplines - and without boundaries - to deliver transformative enterprise and economic growth.
---
Transforming lives, inspiring change
A new funding source for staff and students to boost social enterprise in the region.
Find out more
Global entrepreneurship week programme
Social enterprise: tackling social issues with a business model
Monday 12 November: closed event staff/students & invited guests, booking required
An Audience with...Graham Leslie
Tuesday 13 November: public event, everyone welcome, booking required
Developing business ideas
Wednesday 14 November: closed event staff/students and invited guests, booking required
The future of business start up and growth in the Tees Valley
Wednesday 14 November: public event, everyone welcome, booking required
Teesside University, 5th Annual Staff Conference
Thursday 15 November: closed event staff/invited externals
Business breakfast exchange
Thursday 15 November: public event, booking required via Middlesbrough Business Forum
Digital marketing for small businesses
Friday 16 November: public event, booking required, everyone welcome
---