Enterprise Alumni Group launched
Our Enterprise Alumni Group was launched with an award winning speaker and you could join us at our next event.
More information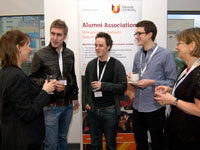 Sarah Iriving, Alumni Relations Officer, Jonathan Torr, Tony McBride and Paul Coates, from Pixel Pie, Sarah Terry, Enterprise Alumni Campaign Officer.
---
Andy Price, Deputy Director of the Institute of Digital Innovation, opened proceedings at the Teesside Enterprise Network meeting on 11 March.

Emily Humphrys, of Cambridge Research Biochemicals, then gave an overview of how she and her business partner, Alison White, have dealt with buying the company, instigating change and adopting new practices.

Her presentation reflected on the need to constantly analyse how the company is performing and responding to the market place, the importance of listening to your clients and the value of external advice.

Emily and Alison won the award for Innovation Through Technology at the North East Woman Entrepreneur of the Year Awards 2009.

Following the presentation members of the Enterprise Alumni Group had the opportunity to network with other entrepreneurs and invited guests.

The next event will be on Thursday 10 June. To join the group and for further details email alumni.office@tees.ac.uk.

22 March 2010