Bloom Studio scores with sponsorship shortlisting
Teesside University animation graduates are in the running to sponsor Premier League club Newcastle United.
More information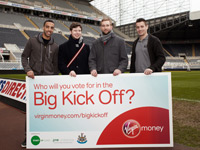 From left, Newcastle United player James Perch with Martin Davies and Albin Nilsen of Bloom Studio and Newcastle United player Mathieu Debuchy
---
Bloom Studio, founded by Martin Davies and Albin Nilsen, was one of the region's first recipients of funding from the Start-Up Loans scheme for young entrepreneurs. The Start-Up Loans scheme is delivered through Project North East and supported by a consortium including Virgin Money, Virgin Unite and The Northern Rock Foundation.

And now Bloom Studio has been shortlisted as one five Start-Up Loan recipients for the opportunity to become 'sponsor for the day' for Newcastle United during the club's televised home fixture against Liverpool on Saturday 27 April.

Bloom Studio, which specialises in animation and graphics for film, television and websites, is the only shortlisted business based in the Teesside area – the other four are in Tyneside.

Martin and Albin were invited to meet Richard Branson at Virgin Money's Gosforth office at the launch of the competition, along with the four other shortlisted businesses and other young entrepreneurs who have received a Start-Up Loan.

Bloom Studio blossomed from Teesside University's DigitalCity Fellowship programme in 2010, initially setting up in the University's Phoenix building before moving into incubation premises at Victoria Road.

Albin, Bloom Studio Creative Director and Teesside University BA (Hons) Computer Animation graduate, said: 'Meeting Richard Branson was amazing, we were able to introduce ourselves and have a quick chat with him. He's inspiring and for an entrepreneurial company like us, he's a really influential figure.'

Watch the '5 tips for a new generation of entrepreneurs' video on Sir Richard Branson's blog

Martin, Bloom Studio Managing Director and Teesside University BSc (Hons) Animation and Visual Effects graduate, said: 'The support we've received from the University has been fantastic, from the DigitalCity Fellowship Scheme which helped us to launch, through to us moving into the University's incubation premises where we are currently based.

'We used the Start-Up Loan to help fund equipment and software and to start work on rebranding and working towards a relaunch. We're just two years old and now we are ready to move to the next level.'

Bloom Studio's work unites technical skill with creative artistry. They have clients and collaborators in the UK, Norway, France and Italy.

Thomas Didymus, Bloom Studio Producer and BA (Hons) Computer Animation graduate, said: 'We're really excited to have been shortlisted for the chance to sponsor Newcastle United. The audience we could get from that would be phenomenal and help with brand recognition.'

Speaking at the launch, Sir Richard Branson said: 'I met a lot of entrepreneurs in the North East and there was a wonderful variety, companies offering everything from clothing to candles and tea, all trying to make a positive difference to people's lives.'

Richard Clark, Director of Workspace at Project North East, said: 'The five shortlisted companies really stood out and this is a fantastic opportunity for them to have their brand advertised for free to a massive audience. I am sure they all deserve the opportunity and I wish them luck, but there can be only one winner.'

Sir Tom Shebbeare, Chairman of Virgin Money Giving and of the consortium, said: 'This is a wonderful opportunity for these aspiring young entrepreneurs to advertise their brand. They have already demonstrated that they have a great business idea and with the help of a Start-Up Loan, they are now turning that great idea into an exciting business of the future. Sir Richard Branson is synonymous with entrepreneurship and we are delighted to be able to support this great initiative here in the North East and Cumbria.'

The shortlisted entrepreneurs will pitch their businesses to the public online throughout March, with members of the public able to vote who they want to win. The business with the most votes when voting closes on Sunday 31 March will become 'sponsor for the day' for the Liverpool game. The winner will see its brand advertised around the ground on the LED perimeter boards as well as in the match day programme.

Votes can be cast for Bloom Studio at www.virginmoney.com/bigkickoff

Find out more about Bloom Studio

The other shortlisted businesses are – Choclateas, which makes natural and organic chocolate teas; Montagu DIY & Hardware, which sells items for general repairs in the home; R-House music promotion company and AIM Dance Group.
07 March 2013
In the News
Sponsor chance for firm
Evening Gazette (Teesside), 18/03/2013, p.9
Animation graduates at Teesside University are in the running to sponsor a Premier League club. Bloom Studio, founded by Martin Davies and Albin Nilsen, was one of the region's first recipients of fun