Teesside University shortlisted for prestigious award
Teesside University has been shortlisted for a prestigious award as one of the UK's most enterprising universities.
More information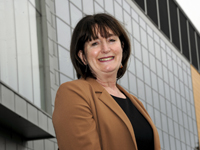 Laura Woods, Director of Academic Enterprise
---
The University has been named as one of six finalists in the Entrepreneurial University of the Year category in the Times Higher Education (THE) Awards 2013.

The award celebrates universities which have 'developed an environment and culture that fosters enterprising attitudes' and which deliver 'significant entrepreneurial impact at regional, national and international levels'.

Teesside University has a long track record of entrepreneurship, start-up support and business engagement. More than 1,000 students per annum get involved in entrepreneurs@tees, a structured programme of challenges and experiences aimed at stimulating enterprising behaviours and encouraging business start-up.

The programme is supported by a thriving network of successful entrepreneurs.

Support for social enterprise includes a social entrepreneur in residence, grants for students and staff setting up in business, and workshops led by national figures in the field.

The University has well-established start-up units on its Middlesbrough campus, and its Business Balcony at Darlington campus provides an ideal place for fledgling businesses to 'hotdesk' and hold client meetings.

Its DigitalCity Fellowship programme has helped to launch more than 200 companies.

In June, Teesside launched Searchcamp, the only business accelerator programme in the country to be run in partnership with a University.

Six start-ups from as far afield as Spain, Romania and Italy took part in the programme, which saw them live and work on and around the Teesside University campus while they developed their business.

Laura Woods, Director of Academic Enterprise, said: 'At Teesside we want to prove that entrepreneurship is a genuine career path and we have helped some fantastic companies to grow on our campuses in Middlesbrough and Darlington.

'We are delighted to have been shortlisted for this award, which is a tribute to the entrepreneurial spirit and hard work of everyone who studies, works and runs a business here.'

The winner of the awards will be announced on Thursday 28 November at a ceremony in London.

26 September 2013
In the News
Teesside University shortlisted for prestigious award
North East Chamber of Commerce (Web), 11/10/2013
Teesside University has been shortlisted for a prestigious award as one of the UK's most enterprising universities. The University has been named as one of six finalists in the Entrepreneurial Univers
---
University up for national enterprise award
Evening Gazette (Teesside), 01/10/2013, p.10
Teesside University has been shortlisted for an award as one of the UK's most enterprising universities. The university was named as one of six finalists in the Entrepreneurial University of the Year
---
Enterprising university shortlisted for award
The Journal (Newcastle Upon Tyne), 30/09/2013, p.27
Teesside University has a long track record of entrepreneurship, start-up support and business engagement. More than 1,000 students per year get involved in entrepreneurs@tees, a structured programme
---
Teesside University shortlisted for prestigious award
B Daily (Web), 26/09/2013
Teesside University has been shortlisted for a prestigious award as one of the UK's most enterprising universities. The University has been named as one of six finalists in the Entrepreneurial Univers