Internship leads to social enterprise
A social enterprise which helps community organisations with film and multimedia projects has been set up as a result of a unique internship project at Teesside University.
More information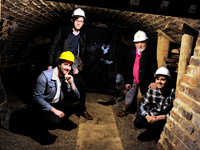 Front (L-R) - Adam Mendum and Lance Julian. Back (L-R) - Sam McGurry and Steve Thompson.
---
Steve Thompson, Community Engagement Coordinator at DigitalCity at Teesside University, employed six Teesside University graduates at the beginning of the year to work on video projects for his East Cleveland Online social enterprise.

After completing the three month paid internship, four of the interns have now set up their own social enterprise, WhatAbout Films, to build upon the work they have done with Steve.

Steve, who is also Teesside University's Social Entrepreneur in Residence, helped them establish the company and was with them when they launched their first completed project, a video guide at Cleveland Ironstone Mining Museum in Skinningrove.

Steve said: 'During their three months working with me, the interns did some fantastic projects around East Cleveland, producing work, not just for the mining museum, but also for Whitecliffe Primary School and Freebrough Academy, sponsored by Teesside University.

'It's great that these four have now gone on to set up their own social enterprise and I have been able to use both of my roles as community engagement coordinator and social entrepreneur in residence to help them.

'I will continue to maintain links with them and I've also taken on some more interns who will also be able to work on the East Cleveland Online project.'

The four members of WhatAbout Films graduated from Teesside University in 2013 with BA (Hons) Television and Film Production.
They are Sam McGurry, 22, from Billingham; Adam Mendum, 22, from Skelton; Lance Julian; 22, from Redcar, and Alasdair Elmes, 27, from York.

The video guide for the mining museum at Skinningrove is projected onto a blank wall at the end of the drift mine and gives the appearance of a nineteenth century miner sitting down to have his break while explaining to visitors what life is like in the mine.

Fundraising and marketing officer Janette Holt said: 'This will be a wonderful addition to the attraction. Visitors will be able to put themselves in the shoes of the miners.'

Adam said WhatAbout Films intend to work on similar projects, using their multimedia skills to support community groups and organisations.

He said: 'It will primarily be a video production business with wide social aims to reach out to the community.

'Our main mission is to create, support and spread media production in the local area and wider region.

'Working as a social enterprise, a business can be used to create a beneficial social impact.

'It wasn't until we took part in the internship that we were able to take that idea and turn it into a reality, while also learning some new skills at the same time.'

WhatAbout Films has also been supported with a grant of £2,000 from Teesside University's social entrepreneurship fund, which has been made possible by a £45,000 allocation from UnLtd, the leading provider of support for social entrepreneurs.

Laura Woods, Director of Academic Enterprise, said: 'We are delighted that we have been able to support these four interns in setting up their social enterprise.

'In turn, they will be supporting some very important community organisations in the Tees Valley and we wish them every success with their venture.'
25 June 2014
In the News
Graduates mine skills for first entrepreneur project
Evening Gazette, 01/07/14, P.4
A social enterprise which helps community organisations with film and multimedia projects has been set up as a result of a unique internship project at Teesside University.
---
Internships springboard group to success
The Northern Echo, 02/07/14, P.31
A social enterprise, helping community organisations with film and multimedia projects, has been set up thanks to a project at Teesside University.
---
Social enterprise launched following Teesside University internship
The Journal [online] 25/06/14
A film and multimedia social enterprise has been launched following a successful internship at Teesside University