News
Free sessions to follow Tony's route back into education
Returning to education has helped to steer former postal worker Tony Henrici back to his original career path.
More information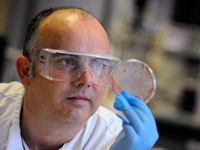 Tony Henrici who returned to study after a break from education
---
Tony, who was made redundant two years ago from his job transporting mail across the region for Royal Mail, is now a second year BSc (Hons) Biological Sciences student.

He is among many adult learners who have returned to education following a change in circumstances or seeking a new career path.

And to help people make the transition back into study or taste higher education for the first time, Teesside University is offering a range of free taster sessions during Adult Learners' Week, which runs from May 12 to 18.

Tony, 47, of Darlington, said: 'I wanted to return to education as it was something I'd regretted missing out on when I was younger. I'd always had an interest in biology and had planned to go to university to study biology but took a job in the labs at a pharmaceuticals firm instead, before my career path led elsewhere.

'I was made redundant in August 2010 and looked into applying to Teesside almost immediately. I'd been away from education from some time, having sat my A-levels 27 years ago. Study methods have changed so much since then and I was a bit nervous about using computers.

'I spent time in the University library getting up to speed using computers and completed courses held during the summer at Teesside, so once I started the degree everything just fell into place.

'As a mature student it can be a bit daunting, but the course has helped to give me back my confidence and the mixed age of students on the degree course is great.'

He added: 'If you ever have the chance to study at university, do not pass this opportunity up as they will remain the best days of your life. It's been invigorating so far and I'm not dismissing going a little bit further with my education.'

The free taster sessions taking place at Teesside University's Middlesbrough and Darlington campuses from Monday 14 May to Thursday 17 May range from science and engineering to running a business, printmaking, photography, history, digital design and writing a news story.

Karen Williams, Recruitment Co-ordinator at the University, said: 'Aimed at those considering a return to study after a break from education or seeking new skills to help change their career path, courses also provide an opportunity to experience a taste of higher education.'

Teesside University will be at Darlington's Cornmill shopping centre on May 11 and 12 to provide information about the taster sessions taking place during Adult Learners' Week.
03 May 2012
In the News
Postie says uni delivers a future
Evening Gazette, 15/05/2012, p.24
A postie who went back into education after being made redundant is urging other adults to try the same when Teesside University hosts free taster sessions as part of Adult Learners' Week. Former Royal Mail worker Tony Henrici, 47, of Darlington, pictured below, is now a second year (BSc) Hons Biological Sciences student at Teesside University and is hoping his studies will take him down a new career path.
---
Ex-postal worker takes new path
Northern Echo, 09/05/2012, p.12
Tony Henrici, from Darlington, is in the second year of a biological sciences degree, two years after leaving his job transporting post across the region for Royal Mail. The 47-year-old Teesside University student is among a growing band of adults who have returned to education following a change in their career circumstances.