Natalie Aves
Natalie is an audience development and social media manager at Endemol Beyond.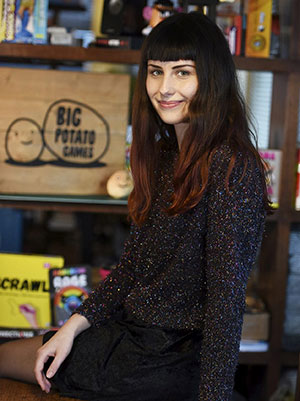 BA (Hons) Television and Film Production
'I learnt the valuable skills of pitching, producing proposal documents, budgets, marketing and business plans.'
At Endemol Beyond my work involves sourcing, making and posting social media assets for the three main YouTube channels Beyond runs. I upload, schedule and optimise metadata for all of the YouTube uploads, and I run social media competitions. I also support the producers with optimising content for audience growth - compiling and presenting reports on YouTube analytics and providing insights. Another part of my role is to assist with social media on shoots and during live events - this can involve filming and editing social video content.

After graduating from Teesside University I got a job at True North Productions, a TV production company based in Leeds. At that point I went to the Guardian Edinburgh International Television Festival as part of The Network, an intensive introduction to the industry for new starters. I was taken on as a development researcher at True North for three months but had my contract extended by another five months. I came up with specialist factual ideas and developed them into proposals, conducted in-depth interviews with contributors and wrote detailed research packs. Before I joined Endemol I worked at Spirit Digital to develop new ideas for online and multi-platform programmes.

My degree course incorporated brilliant modules with a realistic pace of work – the third-year Live Group Production Project saw us working in groups to a live brief on a tight schedule. Making It in the Media provided insight into the business side of the media industry. Here I learnt the valuable skills of pitching, producing proposal documents, budgets, marketing and business plans. University was a great place to get hands-on with the equipment, learn key camera skills and edit software.

All my tutors were really supportive when I became ill with chronic kidney disease – it was simple to communicate with them and arrange extensions, making a very stressful time a little more bearable. The same tutors also helped arrange some useful work experience. I shadowed the third assistant director on the set of The Dumping Ground, a BAFTA-winning British children's TV series, and worked as a volunteer runner for a CBBC live event. I was able to attend inspiring lectures with guest speakers who work in the industry – each provided amazing insight into the media world.

Teesside University's campus is in a perfect position – everything I needed was within walking distance, helping me keep travel costs down. I chose Teesside because I thought the facilities were brilliant and the campus had a friendly and welcoming feel. And I chose my degree because I wanted to study on a course where I could create content from the start.

I attended employability days at the University which were a brilliant help. We heard from industry professionals, did speed interviewing, were given general careers advice and loads of other brilliant tips.

I recommend Teesside University to people who really want to work in the industry and are willing to work hard to equip themselves with the skills that they needed to do so. If you apply yourself and actively take part in lectures you'll learn loads, grow your skills and leave University with the attributes employers in the media are looking for.