Advance card (September 2017 entry)
Applying for September 2018 entry? Find out more about Teesside University Advance.
Want to Advance? Get an Advance card
Our Advance card scheme gives you a helping hand with meeting the costs of your course textbooks.
Collect your Advance card during Welcome Week and get £100* to spend with John Smith's online student store, the UK's leading specialist academic bookseller.
Advance card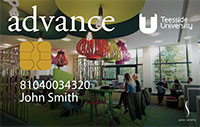 Topping up your account with additional credit is a great way for you to budget or for your friends and relatives to offer their support.
Who is eligible for the Advance card?
The Advance card is initially only available to new entrant students (Home/EU and International) enrolled on the first year of a full-time undergraduate course (excluding direct Year 2 or 3 entrants and top-up student) delivered by the School of Social Sciences, Humanities & Law (excluding Teesside University Business School courses) at our Middlesbrough campus, starting in the 2017/18 academic year.*
How do I activate my Advance card account?
You can activate your account at John Smith's Online Student Store or during enrolment at the start of term. You don't need to apply – you just provide your details and activate your account.
Is this a loan?
No, the funds are provided by Teesside University to help with the extra costs associated with studying. It doesn't add to your student debt and you don't pay it back.
What happens if I don't spend my funds by the end of the academic year?
Your funds are rolled over for you to use in your next academic year, as long as you are still a registered eligible student.
What can I spend my funds on?
You can spend your funds on course textbooks which are available in store or online.
For more information please email: ssshl-enquiries@tees.ac.uk
For balance and order queries email: tees@johnsmith.co.uk
Full terms and conditions of use
---