Paulo Batista de Almeida Filho
Paulo came from Brazil to study here.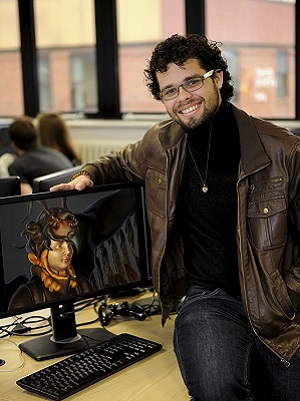 BA (Hons) Computer Animation and Visual Effects
I am feeling more confident because of what I have experienced in Teesside University. I am more confident with my skills and also the course has provided me with ways to develop networks, which is fundamental to getting a job.
Why did you choose to study at Teesside University?
I came to Teesside University on the Science Without Borders Brazilian Government scholarship scheme. One of the primary points I focused on when choosing a university to come to study in the UK was the work that the students were doing at each university. The showreel from Teesside University students was much more impressive than any other university I saw, and this was the most relevant thing for me. When I saw their work, I said to myself 'That's really impressive, that's what I want to do. If they can do it, I can do it.'


What have you enjoyed so far about your course?
We do really relevant things on my course. My first project was to rebuild one of Ray Harryhausen's creatures. The character I chose was a Harpie. It was really challenging for me and it was the first time I built a whole character myself. I was also asked to do a teaser for the ExpoTees. If I do a good job, my work will be shown at the event. It's really exciting.

One thing about my course that's really great is that people from industry often come and give us lectures. For example we had a guy who came from the BBC to talk to us about two projects that we might have a chance to work on later this year. One is a TV series called Wolf Blood. Maybe in June I will be able to see the guys working and do an internship with them. It would be great to be able to say that on my CV.

We also have the opportunity to go to London to participate in a film festival. A partner of Teesside University is providing funding for 40 students from my course to go the festival, with £100 towards our costs to go to London. In addition, Animex is a great event. It is really handy for me that my university holds the biggest UK event of this type.

We have amazing facilities on my course – there is a great studio, TV props, a sound studio and a video game studio – I have access to everything I need.

How about the social life at Teesside University?
I have joined the TV and Film Production Society and it's great to be around people who are all interested in discussing the same things as me and to get other perspectives. I have also been to a taster session of the archery club.

I did a pre-sessional English programme, and during this time I was part of a cookery club and also the English language café. It was a nice way to meet new people and have coffee. I loved the pre-sessional English experience. Everyone was really nice, the tutors were really helpful.
Do you live in Teesside University student accommodation?
In the beginning I was in University accommodation in my own private room but with big, shared day rooms. Although some people might prefer this style of accommodation, I prefer to have more privacy. I spoke with the accommodation services and they helped me to move to a small house with a Brazilian friend and some English people.

There are six of us in our house. It's close to everything. King Edward's Square is really lovely, near to the gym, near to all the supermarkets - it's really pleasant and convenient.

I get on really well with my housemates - we are all good friends, we do things together, we sit up late and play boardgames, we talk about everything. It's like a little family.

Do you think studying at Teesside University will help you to achieve your future ambitions?
Definitely. I am feeling more confident because of what I have experienced in Teesside. I am more confident with my skills. The course has provided me with ways to develop networks, which is fundamental to getting a job.