Praise for Teesside University Business School
Teesside University Business School has been praised by a prominent industry leader for its work to meet the challenges of the future.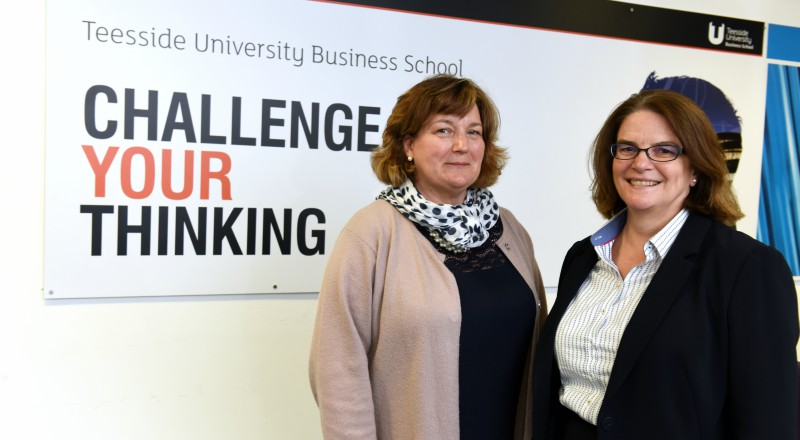 Anne Kiem, the Chief Executive of the Chartered Association of Business Schools, visited the University's Middlesbrough campus to learn about new developments at the School and the work it was doing to educate the next generation of business leaders.
As part of her visit, Anne met members of the School's Executive team, including new Dean Dr Susan Laing, as well as members of the University Executive Team, and staff involved with the University's business engagement agenda.
Teesside University Business School prides itself on its blend of academic excellence, entrepreneurial thinking and real work orientation.
Student employability is at the heart of the School's agenda with a range of programmes to ensure that students receive the skills they need to succeed in the workplace.
Its programmes are also influenced by major international companies and employers in the region, such as Nifco, PD Ports, Sabic and County Durham and Darlington Fire and Rescue Service.
It's fantastic to see a School with such clear vision and strong leadership
Anne said: 'As a membership organisation, it's important that I get out to speak to our members and find out about what matters to them.
'It's been a very interesting visit to Teesside University. It's fabulous to see so much energy from the staff and optimism about what the future holds and the changes that are taking place.
'It's also fantastic to see a School with such clear vision and strong leadership with Susan and the Vice-Chancellor Professor Paul Croney.'
Dr Laing added: 'We were delighted to welcome Anne to the School.
'We have an exciting vision for growth over the next few years, so we were very pleased to receive such positive feedback.
'As a business-facing institution we like to work creatively alongside employers to tackle real-world challenges and ensure that our students are equipped with the practical skills, business acumen, entrepreneurial flare and confidence to succeed in the 21st century business world.'
---
---