Our students
Henrique Coli Schumann
Henrique came from Brazil to study here.
BSc (Hons) Computer Games Programming
I choose Teesside because it has one of the best game programming courses in the UK.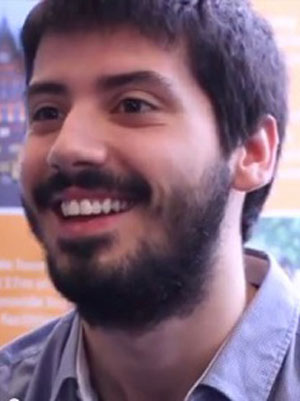 What made you come to Teesside?
I choose Teesside because it has one of the best game programming courses in the UK and having higher education is important to have a better chance of finding a good job.
What do you enjoy about your course?
I mainly enjoy the subjects that we study, but also the lecturers are well prepared and willing to help you with what you need. My two favourite modules are Games Engine Construction and Network and Concurrency Programming. I like GEC because we have the chance to actually make a game we like. I liked NCP because it is a new topic for me and I am really excited about learning this new skill.
What did you think about the campus and the services offered?
Both of them are great. All buildings that I use are new and the labs are equipped with great machines. All the staff members that I have been in touch with so far were polite, helpful and most important they really seem to care about you and because of all that the services are great too.
My room is comfortable and the house's facilities are good. In case I or my housemates need anything, the keepers are available to offer us help.

How did you find student life?
I usually don't go out to parties or clubs, I'd rather stay at home and chat with my housemates, play board games with them etc, but I have joined the archery club and I really like it. The university is really close to the centre so I can find restaurants, groceries and all kind of shops nearby. The infrastructure and all the employees are great, I had nothing but good impressions during my time here and it has been a great experience to live and study at Teesside University.