Our students
Alya Tudorache
Alya came from Romania to study business at Teesside University.
BA (Hons) Business Management
'I'm learning the necessary theory for my interests and university is teaching me how to apply what I'm learning in the real world.'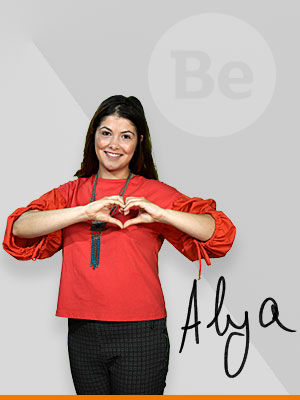 Why Teesside University?
Teesside University came to deliver a presentation at my high school in Romania – and that convinced me to come here. Several of my classmates at the time had the chance to visit Teesside, and their experiences and opinions helped me to make my decision too.

One of the other things that attracted me was the Teesside Extra scholarship. Because I had good final exam results back home, I received a scholarship over the duration of my studies to help me with my expenses.

Why did you choose to study business management?
I'm interested in becoming an event planner and hope that one day I can open my own business related to events. Studying business management is helping me understand the steps I need to take to achieve my goals. I'm learning the necessary theory for my interests and university is teaching me how to apply what I'm learning in the real world.
What do you like about your course?
One of the best things about my course is the range of modules I can study. The course covers all aspects of the business environment. I enjoyed the marketing module so much that I would like to find a work placement in this area.
What do you think about the local area?
Middlesbrough has all the facilities a student could want around their university and the cost of living is very affordable. I go out with my friends to bars and nightclubs in town and every Wednesday is student night. There is also easy access to many high street shops and places to eat. I like the fact there are shops, restaurants and takeaways that offer a variety of international foods.
Are you a member of any clubs or societies or involved in any volunteering programmes?
Over the summer I have volunteered as an international buddy, helping international students to settle in and integrate into university life. I am the chair of the International Student Society, which means I'm involved in organising different activities for the society members. I also volunteer as a PASS (Peer Assisted Study Session) Leader, helping business students from the year below me to understand their course and guide them with any problems they may have.

All of the activities I take part in mean I'm getting relevant experience and building my skills. I have received training for all of the activities I do, and I've had the chance to learn from professionals. After university, it's good to show not only excellent degree results but also a rich CV with many different experiences.

Would you recommend Teesside University to others?
Teesside is truly involved in the relationship with its students. If someone was considering coming to Teesside University, I would say to them that if they come here they can experience real student life in a friendly environment, with many opportunities to create their own personal brand.