Research and enterprise magazine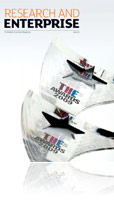 There's a great deal of exciting work going on at Teesside on the research and business development as our magazine, Research and Enterprise, shows.
To find out more, download or print the latest issues of Research and Enterprise magazine. If you would like a hard copy of the magazine contact the Centre for Enterprise email cfe@tees.ac.uk or phone 01642 384577.