Open your mind at Teesside's open day
Do you want to explore the worlds of Virtual Reality, Forensic Investigation, Media Production, Advertising or Sport Science? Then head to the University of Teesside's Open Day on Wednesday 11 September from 10am-4.30pm, where you can learn about study opportunities in these areas and many more. The Open Day is free and open to all members of the public.
More information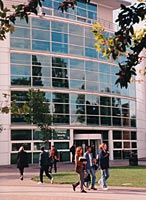 Entrance of LRC on a sunny day
Drop-in facilities are available from each of the University's Academic Schools, where staff will discuss study options, provide subject-specific lectures and tours of facilities. In addition, regular tours of the whole campus will take place throughout the day, along with talks on student funding, careers and accommodation. Visitors can meet current students and also experience a range of 3D images in the University's Virtual Reality Centre.
Pat White, Schools and Colleges Liaison Manager at the University, said: "The University Open Day is an ideal opportunity to look around the campus, speak to staff and students from subject areas and generally get a feel of life at a modern University.
"We feel that the Open Day is a crucial part of the information cycle for anyone considering higher education, and recognise that students and their parents need to be reassured that the choices they are making are the right ones for them."
Anyone wishing to make a group or individual booking can contact the Schools and Colleges Liaison office on 01642 342275. Click here for online booking.
---