Open your mind at Teesside's open day
Information on the University of Teesside's loans, bursaries and scholarships will be available at the University's free Open Day on Wednesday 19 October. The Open Day takes place from 10am – 7.00pm and open to anyone interested in studying on a university course.
More information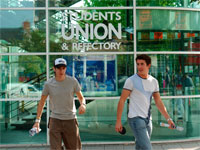 Two students
New financial arrangements starting in September 2006 include deferring the payment of university fees until the student is earning £15,000 a year. They also include the re-introduction of student grants and improved loans. In addition, the University is introducing new bursaries for all and scholarships for high-achieving students.
People attending the Open Day can find out more about a range of courses, including design, media, sport, law, radiography, marketing, forensics and computer graphics.
Guided tours will be available, as well as advice sessions on finance, the application process, accommodation and graduate careers. Interested parties can either book a place through the Schools and Colleges Liaison office on 01642 342275, on this website or just turn up on the day.
---