Animation competition draws entries from around the world
In 2004 more than 300 budding animators entered the Animex International Animation Awards which are hosted by the University of Teesside. One winner was LA-based Shane Acker, who won the Best Character Animation in the 2005 Animex Awards for his short film, entitled 9.
More information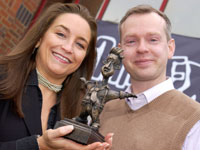 Justin Greetham and Rachelle Lewis
Shane is now working alongside Hollywood director Tim Burton (Charlie and the Chocolate Factory, Batman, Edward Scissorhands, Big Fish, The Nightmare Before Christmas and the recent animated hit The Corpse Bride) to create a full-length feature version of his Animex Award winning short film. Shane is currently directing the big screen version, with Burton producing and Corpse Bride writer Pamela Pettler on script duties.
In 2005 382 animators have entered the competition organised by Animex, the international festival of animation and computer games. Entries have been received from all over the world, including the USA, Canada, France, Austria, India, Germany, Singapore, Hong Hong, Malaysia, Republic of Korea, Portugal, Spain, New Zealand, Australia, Egypt, Greece, South Africa, China and Croatia.
The annual week long festival (Monday 6 – Friday 10 February 2006) features screenings, workshops and talks by respected animators and computer games creators, as well the Animex Awards. Most being focused on the University of Teesside which organises the event.
There are seven awards in the international competition including 3D computer animation, games design and visual effects.
Justin Greetham, Animex Awards co-ordinator and Senior Lecturer in Visualisation, said: "It's marvellous to have received so many entries to our competition. There is some amazing stuff coming through and one entry that comes to mind is a piece entitled Levels by student Tom Mountfort from the Massey University College of Creative Arts in New Zealand. The piece is centred around a girl who travels through her environment like levels of a game. Every door to the next level is different to the previous, and normal rules or reality do not apply.
"It is imaginative, controlled, colourful and like a lot of other entries in this years Animex Awards explores the convergence that is currently taking place in the computer animation and computer games industry. The challenge for us here at the Animex Award office is to recognise the new techniques that we are seeing and to bring together emerging stars in the field of computer animation and computer games art."
The results will be announced on Friday 10 February 2006 during Animex week and members of the public will be able to view the winning entries at a series of public screenings in and around the North East shortly afterwards.
For more information about Animex, including up-to-date information on special guests from the animation industry, visit: www.animex.net.
---