Open your mind at Teesside's open day
Information about all of the University of Teesside's courses, as well as the details of loans, bursaries and scholarships will be available at an Open Day on Wednesday 18 October. The Open Day takes place from 10am – 5.00pm and is open to anyone interested in studying on a university course.
More information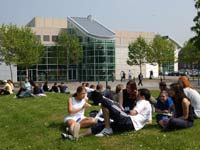 University of Teesside Campus
Sharon Bimson, Schools & Colleges Partnerships and Recruitment Manager, said: "The Open Day is an excellent opportunity for anyone thinking about coming to the University of Teesside. Not only will they see what a fabulous place it is to study at but will get all the advice and guidance about courses and fees. More than 3000 people are expected to attend from all over the country."
People attending the Open Day can find out more about a range of subject from each of our academic schools: business, health & social care, social sciences & law, arts & media, science and technology and computing.
Guided tours will be available, as well as advice sessions on finance, the application process, accommodation and graduate careers.
Interested parties can either book a place through the Schools and Colleges Liaison office on 01642 342275, email scl@tees.ac.uk or online at www.tees.ac.uk, or just turn up on the day.
---