Open day was a winner for Lauren
A decision to return to education helped young mum Lauren Gibson win a brand new iPod.
More information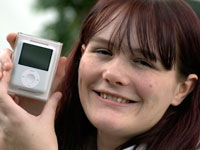 Lauren Gibson with the iPod she won after attending an open day at the University of Teesside
Lauren, 24, of Billingham, attended an open day at the University of Teesside's School of Health & Social Care to find out more about diploma and degree courses in child nursing, adult nursing and midwifery.
She decided to return to education following the arrival of 11-month-old son Cyrus.
During the open day she completed a questionnaire and was automatically entered into a prize draw to win the iPod.
Lauren, who has applied to study nursing and midwifery at degree level at the University, said: 'I really enjoyed the open day and I was able to find out a lot about the courses.
'Being able to speak to students already studying at the University was great as it was really good to get their perspective.'
---