International students satisfied with Teesside
International students are satisfied that we are making them more employable.
More information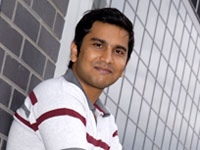 Sandeep Roy, MA Creative Digital Media student
We have been ranked top for the support we offer to students in the International Student Barometer (ISB), the largest study of student satisfaction in the world.
Top for support International students rated Teesside top out of 93 universities across the UK and Europe in the ISB for employability prospects, financial support, careers advice and accommodation support. The survey also shows: -
94% of international students at Teesside are satisfied with the overall support
86% are satisfied with the overall learning
84% are satisfied with overall living experience
81% would encourage others to apply to Teesside
Dr Keith Brown, Director of International Development, said: 'It is a strong recommendation from the students and a vote of confidence from them.'
Among the 1,500 students who have come from overseas to study at Teesside is Sandeep Roy, from Secunderabad in India. He is currently working towards a MA Creative Digital Media.
He said: 'I wanted to gain an in-depth knowledge of computer animation and games, so I decided to study at a higher level. It's an area I've always wanted to study.'
Sandeep is now working on his dissertation on animation, along with a short animated film for his final project.
He said: 'The University has a lot of facilities for computing students and I've gained an enormous amount of knowledge from this course.'
Social life is absolutely brilliant
Sandeep is also impressed with the campus and student services, adding: 'I think it's the best accommodation a student can get. My social life has been absolutely brilliant. It's perfect for a student as all the shops and clubs are close by and, most importantly, the cost of living is quite reasonable here.'
Around 400 students attended a recent International Student Reception held on campus, with a welcome from Vice-Chancellor Professor Graham Henderson and guest speaker Middlesbrough Mayor Ray Mallon.
For more information contact the Centre for International Development on 01642 384276 email international.office@tees.ac.uk.
---