Food for thought as company cuts energy bills
A County Durham food company has been able to make significant energy savings after a review by University of Teesside experts.
More information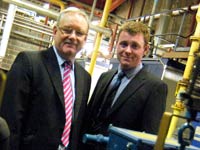 Adam Stewart, right, with Tom Weldon, Site Operations Director at International Cuisine
Adam Stewart, from Redcar, spent six months working with International Cuisine, in Consett, north Durham, which employs 550 people and is part of Singapore Food Industries.
As a result of Adam's work, the company, which makes more than a million chilled meals a week, has been able to identify measures which will reduce its energy consumption by up to ten percent.
Specialist expertise Adam was recruited to a One NorthEast funded Collaborative Innovation Partnership (CIP) utilising the specialist expertise of the University's Clean Environment Management Centre (CLEMANCE), which advises companies on ways of reducing their impact on the environment.
Adam's project was based on carrying out a full audit of the factory's energy usage to identify ways by which it could be reduced and supporting the company in achieving Carbon Trust Accreditation.
Adam, who is completing his MSc in Environmental Technology said: 'International Cuisine was already operating in a very efficient way but the work we have done showed that even companies that were already efficient can make further, extremely significant, improvements.'
These improvements included the simple step of keeping doors closed during warm summer weather, because leaving them open makes the refrigeration units work harder to maintain the best conditions for stored food.
Adam said: 'Once we discovered the effect that leaving the doors open was having on the refrigeration units, we were able to make the staff aware of the amount of energy that was being wasted.
'We were also able to explain that making economies benefited them directly. If energy is wasted, a company wastes money and that hits its viability and, in turn, people's pay packets.'
Cut energy usage Other recommendations included a more efficient use of blast-chillers, used to cool food down quickly, better ways of using boilers and compressors and more efficient ways of operating other equipment. The company is now drawing up a schedule of work to implement the suggestions.
Adam said: 'If all the measures were adopted, they could cut energy usage by up to ten percent. The important thing about that figure is that every pound saved in this way goes straight onto the company's bottom line. By making a few easy, relatively inexpensive changes, companies like International Cuisine can add to their profitability.'
Tom Weldon, Site Operations Director at International Cuisine said: 'We would never have been able to achieve this ourselves without the invaluable support of Adam and the University of Teesside.'
Following the success of his work at International Cuisine, Adam was offered a role at the University working on the National Industrial Symbiosis Programme. He will now have the opportunity to move from student to teacher using the case study to teach Environmental Technology students at the University.
---