Is human 'imperfection' a bad thing?
Imagine a world of 'human perfection' where disabled people are a distant memory, edited out by medical enhancement and economic cost-benefit analysis.
More information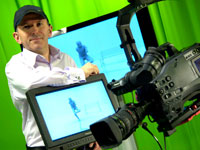 Dr Simon McKeown from Teesside University
Is such a world desirable?
Not necessarily so, says artist and computer animator Simon McKeown from the School of Computing, who is challenging many of the notions of so-called human 'imperfection' in a high-tech film-based exhibition called Motion Disabled.
Produced with colleagues in the West Midlands, it uses a number of 'disabled actors' from around the country and opens at the Wolverhampton Art Gallery on 24 January, 2009 with a run of four months.
Animated digital sculpture 'Motion Disabled is an animated digital sculpture,' says Simon McKeown, Reader in Computer Animation and one of Britain's most experienced 3D animators, with 20 years' industry experience in TV and computer games production.
'We've used state-of-the-art Hollywood technology more usually associated with super heroes like Spiderman to capture ordinary disabled people in their human diversity.
'I used this technology to capture for now and forever the motions of 'difference'. This has allowed me to ask questions such as: 'Do we value difference?' 'How do disabled people's bodies fit into current notions of normality?' 'And, is physical diversity about to become Virtual?'
Wellcome Trust grant The Disabled Motion project has won a Wellcome Trust grant worth £30,000 which enabled Simon to team up with the disability arts organisation Outside Centre - based in Wolverhampton, run by Dr Paul Darke, who has worked as producer on the exhibition.
Paul said: 'Great art infiltrates the subconscious to affect the very nature of our thought and the way in which we live and the way in which we see the world. Motion Disabled achieves the goal of great art in that it not only re-presents the world with originality and wit but undermines the essence of the body ideal to force the spectator to confront their own sense of normality and abnormality both corporeally and socially.
'Motion Disabled is the best piece of art I have seen in years: that it engages, has wit and intelligence is the icing on the cake.' he says.
Simon hopes Disabled Motion will contribute to the mainstream intellectual and artistic exploration of the very nature of what societies in the future may lose - difference.
'Through the creative use of an animation process, this film aims to start a debate on whether society's use of bioscience and medical enhancement is creating a landscape of merely ordinary bodies. Art is to make people see their surrounding society differently and Disabled Motion makes a unique contribution to this debate.'
Actors used in the motion capture sessions included disabled people with very different impairments, such as Mat Fraser, a well-known TV personality, who has thalidomide; Steve Graham, a web developer from the School of Computing, who has cerebral palsy and Frank Letch who was born without arms.
Mat said: 'It is not just great fun to be portrayed in a world that usually seems obsessed with ultra perfection, and to have one's unusual and individual way of moving be a part of the gaming screens; but if we don't include those of us who move and do things differently, it would be a huge loss to the variety and creativity of the games and animation. It may also become our only legacy in a World increasingly devoid of natural differences.'
Frank Letch was another delighted to take part. He's already something of a media star having featured in national TV documentaries as the 64-year-old Mayor of Crediton in mid Devon who can peel potatoes, drink a pint in his local bar, write and type and even change a baby's nappy using his bare feet.
Frank says: 'If a surgeon walked into this room now and said he could graft perfect arms on me if I wanted, I'd tell them I want to stay the way I am because I think it's made me a much more interesting person. I am not disabled. It's just that I have an inability to do some things the way other people do.'
The art work has been created by recording in three dimensions the physical movements of physically different people with conditions such as Spina Bifida, Thalidomide, Limb differences, Cerebral Palsy and Brittle Bones. By using motion capture technology, the artist and producer have been able to make a 3-D representation of 'real life' which allows them to focus on the 'exceptionality' of disabled people and their essential humanity.
Read an article about Simon's work - in Research and Enterprise magazine, pages 26-27
Useful links More details about the exhibition Motion Disabled Welcome Trust Outside Centre Dr Paul Darke Simon McKeown
---