Enterprising entrepreneurs seek support from us
Entrepreneur Craig Peterson says his studies here are helping to prepare his business for the future.
More information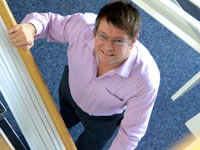 Craig Peterson, director of Carlton & Co property development and investment company.
The director of Carlton & Co property development and investment company, based at Aycliffe Business Park, is among entrepreneurs who have signed up for the MBA (Enterprise) at Teesside University.
The programme, designed for entrepreneurs or managers of small or medium enterprises, focuses on strategic planning, evaluating opportunities, mechanisms of growth and development as well as the means to sustain an organisation.
new entrepreneurial ideas which would take us forward Craig said: 'Our sector was hit massively by the current downturn and we needed to consider new opportunities and new entrepreneurial ideas which would take us forward in challenging economic conditions. 'I really wanted to improve my general business skills and when I came across the MBA at Teesside the content of the course immediately struck me, as it is geared to small to medium enterprises and developing entrepreneurial skills. 'I felt the MBA would be beneficial as a way of developing my own skills which would help take the business forward. The lecturers combine real business experience with academic knowledge to deliver excellent workshops. The group has a cross section of professionals from various sectors and we are encouraged to share our own business experiences and ideas. 'It has been a massive help to our business and has put us in a great position to move forward in a challenging market. The course focuses on modules which develop your skills and knowledge to become more entrepreneurial than you could ever imagine.' He added: 'Running your own business is hard work and the MBA requires additional commitment, but what you can get from it is greatly beneficial.'
Roy Fewster, Senior Lecturer in Enterprise in the University's Business School, said: 'The MBA (Enterprise) has been running for three years and has proven to be very worthwhile for the entrepreneurs who have already participated in it. Participants can enrol for individual modules to study at a pace and an investment to suit them. The MBA (Enterprise) is also now running in Singapore where it has received an enthusiastic response.' Anyone interested in learning more about the MBA (Enterprise) can email royfewster@tees.ac.uk or telephone 01642 342864.
---
In the News
Craig sets course for the future
Evening Gazette (Teesside), 16/09/2009, p.1
Craig Peterson, director of Carlton & Co property development and investment company is among entrepreneurs who have signed up for the MBA (Enterprise) at Teesside University. He claims says his studi