Log on for virtual open day
Learn more about Teesside University without even having to visit our Middlesbrough campus - just log on for our postgraduate virtual open day to be held on Tuesday April 27.
More information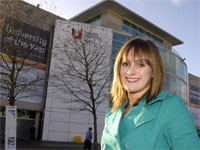 Graduate Rebecca Wood outside Teesside University library
The postgraduate virtual open day, aimed at prospective students considering postgraduate study, will be held from 1.00pm to 4.00pm and 6.00pm to 9.00pm.
You can take a virtual campus tour, watch online presentations and videos and speak directly to staff and current students, all while sitting at a computer in the comfort of your own home.
It is the first time we have held a virtual open day and invited people to visit us online at the Times Higher Education's University of the Year.
To register for the postgraduate virtual open day visit www.tees.ac.uk/pgopenday E: enquiries@tees.ac.uk
---
In the News
Postgraduate virtual open day
TFM Radio, 27/04/2010
Teesside University is hosting a virtual open day, to allow students to learn more about postgraduate study without having to visit the campus.