News releases
A Meteoric procession begins at Bottle of Notes
Nearly 400 primary school children gathered at Middlesbrough's Centre Square, near the Bottle of Notes sculpture.
More information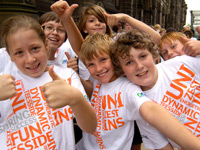 A Meteoric procession begins at Bottle of Notes
---
They assembled to process to Middlesbrough Town Hall, where they took part in their Meteor 'mini-graduation' celebration ceremony.

The Year Six (aged ten to eleven) pupils are from across the Tees Valley and have just taken part in the twelfth Meteor Summer School at Teesside University.

They processed alongside student mentors from the University to the 'mini-graduations', where they crossed the Town Hall stage to receive a certificate from the University's Vice-Chancellor, Professor Graham Henderson.

The pupils were watched in the audience by their families, friends, teachers and VIPs.

Inspiring success
Meteor was launched by the University in 1999 to inspire local primary Year Six (aged 10 to 11) pupils to think about further and higher education.

Meteor offers a series of activities on and off campus covering a wide range of curriculum based activities. It also provides an opportunity for pupils to meet and talk to students working on the activities and in schools.

Joe Bulmer, from the University's Schools and Colleges Partnerships team, said: 'There's always a special atmosphere at the Meteor graduations. The children get so excited and hopefully we may see them again in the future at the Town Hall, or similar venues around the UK, crossing the stage as university graduates.'

Molly Anderson-Smith, 11, from Saltburn Primary School, said: 'I want to cross the stage wearing a mortar board when I'm older. I liked it when the Meteor Zoolab tour came to the school and shaking the Vice-Chancellor's hand.'

Fellow pupil Ross Bickerdike, also 11, said: 'I liked making the massive structure at the summer school and I liked crossing the stage to get my certificate.'

Meteor has now expanded to over 27 primary and secondary pupils across the Tees Valley. At this year's school, Mark Hopgood, Project Director for Middlesbrough's £2.7m, 48m high Temenos, delivered daily presentations about the sculpture to the children, including a time lapse video showing the construction of Temenos.

The pupils then worked in teams to design, computer visualise and then finally build their own constructions. These were displayed on a loop at the Town Hall ceremony. This year's summer school was funded by One North East.

22 July 2010
In the News
Pupils make the grade
Herald & Post, Middlesbrough, East Cleveland and Stockton & Billingham editions, p 3
400 primary school pupils recently took part in a procession through Middlesbrough to celebrate their graduations from the University's Meteor Scheme.
---
Pupils make the grade
Herald & Post, 29/07/2010, p.3; Northern Echo, 23/07/2010, p.49
Primary school pupils took part in a procession for a mini graduation at Middlesbrough Town Hall after completing the Meteor summer school at Teesside University.
---
Now kids are really soaring....
Evening Gazette, 22/7/10, p.34; Gazette Live (Web), 23/07/2010; ITV 1 Border, Tyne Tees and Border News, 20/07/2010; BBC Radio Tees, 20/07/2010;
A mini graduation for 400 primary children was held in the heart of Middlesbrough. They were celebrating their successful completion of the University's Meteor Scheme.