Free talk focuses on academic's quest to protect the environment
Professor Eric Senior will trace his 35 year quest to protect the environment in a free Audience With event at the University.
More information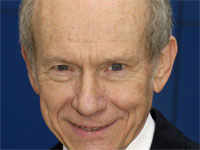 Professor Eric Senior.
Professor Senior, who is Director of the Clean Environment Management Centre (CLEMANCE), the environmental research and enterprise centre of Teesside University, will present his talk on Wednesday 18 May.
Rubbish Dumps and Beyond – One Man's Environmental Quest, can be heard from 6.30pm to 7.45pm in the University's Centuria Building. Refreshments are available from 6.00pm.
Professor Senior said: 'Although we've practised environmental biotechnology for more than eight millennia and exploited waste for more than 4,000 years, there's still a lack of definitive studies.
'I'll trace my 35 year quest to unravel the complexities of microbial interspecies interactions and how they apply to environmental protection.'
Book a place for the free Audience With event by contacting the University's Alumni team on 01642 342887 or email alumni.office@tees.ac.uk.
About Professor Eric Senior After graduating with a BSc (Hons) General Science and a BSc (Hons) Botany, Professor Senior completed a PhD in microbiology.
He worked as Lecturer in Applied Biology at the University of Strathclyde, Foundation Chair of Microbiology at the University of Natal in South Africa, Visiting Professor at the National University of Singapore and Dean of Health, Natural and Social Sciences of Sunderland University.
He was awarded a DSc by the University of Strathclyde for his significant contribution to the process of learning.
---