News releases
Bright future looms for Griffith Textile Machines
A Washington-based engineering company is reaping the benefits from Teesside University's business services.
More information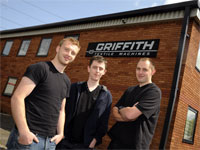 Griffith Textile Machines staff
---
Griffith Textile Machines (GTM) specialise in fabric forming machinery and looms for the likes of Axminster carpets, carbon fibre and motorway embankment mesh. Having discovered Teesside University's graduate placement service last September, they are now with their fourth graduate and have not looked back.

The company, based on Pattinson Industrial Estate in Washington, has been operating for 27 years and employs 20 members of staff. Led by Managing Director Dave Watson, GTM recently broke away from a larger parent group, and it has therefore been a good time to look at the way in they recruit new members of staff.

Technical Director for GTM, Chris Clarke, has responsibility for the company's software and electrical control. He says: 'Our relationship began with Teesside University last autumn when we were looking to recruit a fresh graduate. We had recognised this was the best type of person to employ, but we felt it may be difficult to find the right individual ourselves.

'Teesside gave us a fantastic response and we have not regretted our decision at all. Our first graduate, Julian Emslie now works on a permanent contract and I work closely with our fourth graduate, Peter Ward, who joined us in March.'

All the graduates taken on by GTM were employed via the University's graduate recruitment scheme, a one-year contract where the positions are part-funded by the Higher Education Innovation Fund for the first 12 weeks. Support is provided to the company and graduate throughout the contract from a representative of the University.

Peter Ward, 29, is an MSc Applied Computing graduate from Middlesbrough, and was recruited by GTM to assist in software design and control. Peter explains: 'After graduating from Teesside last year, I used their careers service which really helped improve my CV and job searches. Up until then I'd been struggling to get anywhere and a lot of the opportunities I was finding were outside the region.

'I really enjoy my work, I'm learning new things every day and it's great to get the chance to come up with new ideas.'

Chris adds: 'There are so many benefits of using the graduate scheme rather than advertising yourself – we almost get first pick of the graduates before they apply elsewhere, we can 'mould' them in our way, and the funding assistance is massively helpful in today's economic climate.

'Peter has definitely brought something new to the company, with fresh ideas and a different perspective on the work we do. We will certainly use Teesside University again, they seem to be a really good source of Computing and Engineering students, but I'm sure all types of company can benefit from their services too.'

Griffith Textile Machines can be contacted on 0191 416 2233. For more information on Teesside University's business services, call 01642 384580 or visit www.tees.ac.uk/business.

06 July 2011