Animex just got bigger and better
Animex 2012 promises to be the biggest and best in the event's history. The thirteenth year of the UK's biggest festival of animation, visual effects and computer games just got even bigger.
More information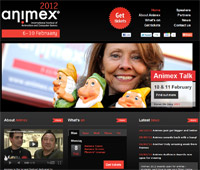 Animex website 2012
Every year the festival has sold out and year-on-year the waiting list for tickets has grown longer and longer. To accommodate the growing numbers of people wanting to be part of the festival, organisers have almost doubled the seating capacity this year.
In 2012 Animex Game and Animex Talk will run across two venues at Teesside University's Middlesbrough campus. For those familiar with the festival's venues, people who purchase the first lot of passes will be allocated seats in the festival's long-established home, after which, pass-holders will be given seats in our new theatre. All talks and presentations will be delivered in both venues so every pass holder gets the same fantastic insights into the games and animation industry.
Organisers suggest that to give you the best chance of getting a seat with your friends or colleagues, you should book your passes at the same time.
Booking passes couldn't be simpler. There are now only three types of pass to choose from, all of which get you into more events than ever before without the need for extra tickets. All you need is a debit or credit card, and if you are booking passes for groups of ten or more, you can also choose to send a cheque or ask for an invoice.
As ever, Animex gives you the opportunity to see some of the greatest animated films in the world, learn from the best in the business in our masterclasses and workshops, visit our exhibitions and join the speakers and festival organisers at our numerous parties, networking and recruitment events.
So, if you're a student with a thirst for knowledge, a professional seeking inspiration or an enthusiast who just loves the art, take a look at our passes and see which one is best for you.
Our early booking discount will get you the best deal, and you can get even greater reductions if you book as a group.
Don't miss out – get your pass today and we'll see you in February 2012 for what will be the biggest and best Animex yet.
The Animex Team
---